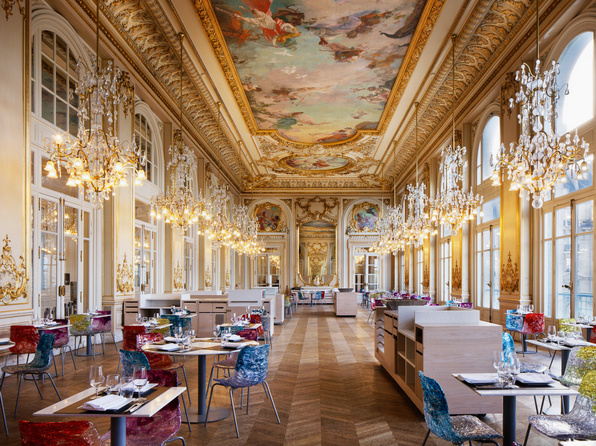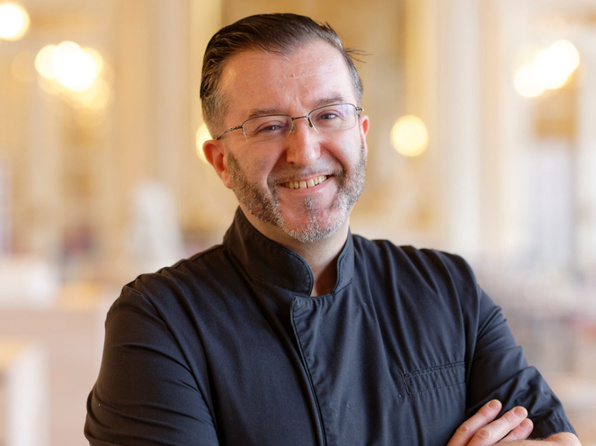 In the heart of the former train station, the Musée d'Orsay Restaurant is a magnificent reference to French tradition, with frescoes by Gabriel Ferrier and Benjamin Constant lining the ceilings of the grand dining room and its salon.
The chandeliers, the painted ceilings and the gilding of this room classified as a historical monument, will make this unique moment you spend here unforgettable.
Committed to seasonal, gourmet and refined dishes, its chef highlights French culinary artistry. He likes to surprise the restaurant's diners by going for inspiration, always in connection with the museum's exhibitions.
Opening times
The restaurant is accessible with a museum entrance ticket
Tuesday through Sunday from 11:45 am to 5:30 pm
Thursdays from 11:45 am to 2:45 pm and from 7 to 9 pm
Images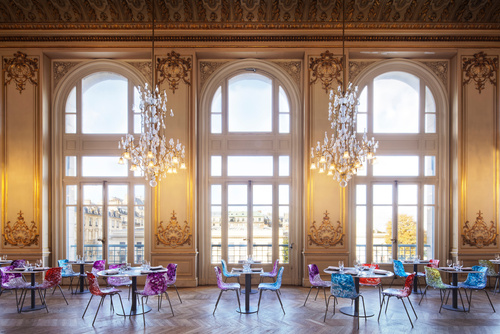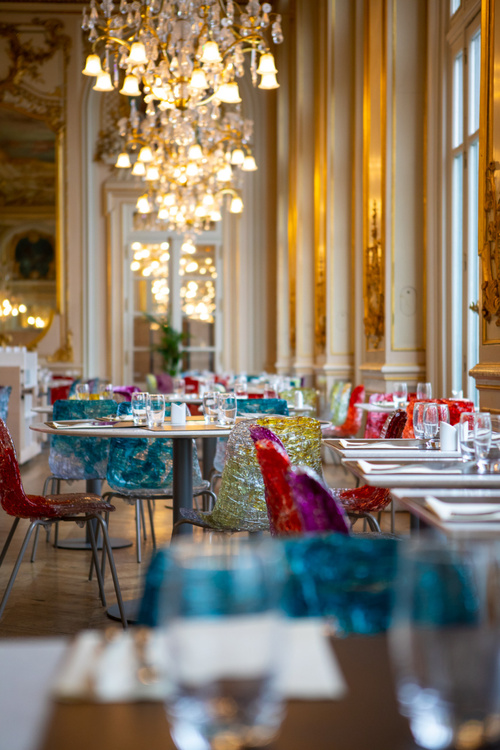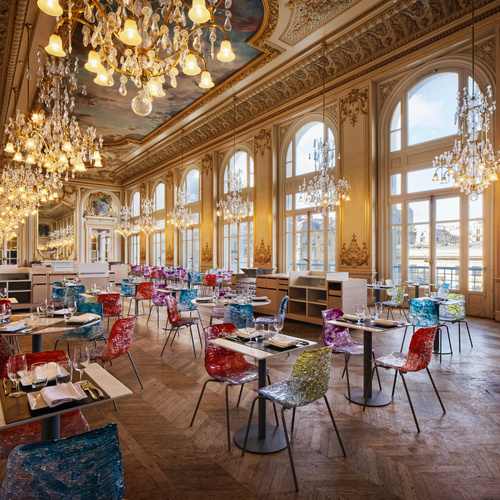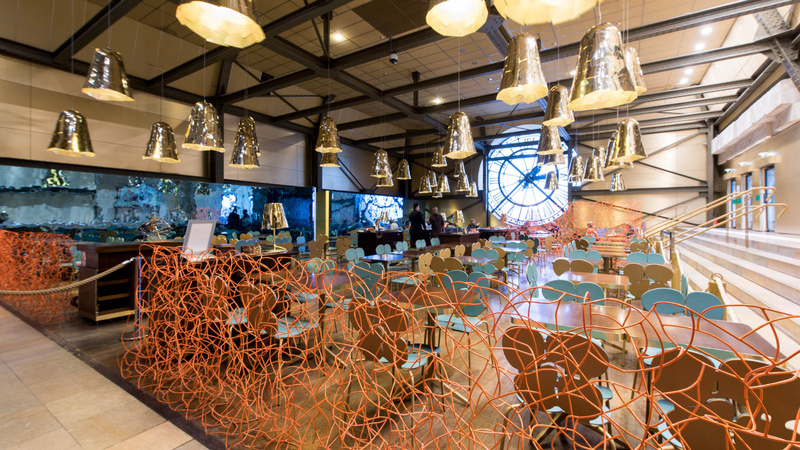 The restaurant is accessible with a museum entrance ticketJust outside the Impressionist Gallery, Café Campana is a place that sparks the imagination. Designed by the Campana brothers, famous Brazilian designers, the café transports you into a "dreamlike-aquatic" universe, directly inspired by Emile Gallé and a tribute to Art Nouveau. The café offers a summer menu with quick-serve dishes, featuring seasonal produce, large salads, simmered dishes and ice cream sundaes.
Opening times
The café Campana is accessible with a museum entrance ticket
Café Campana welcomes you Tuesday through Sunday from 10:30 am to 4:45 pm, Thursday from 10:30 am to 7 pm. 
Images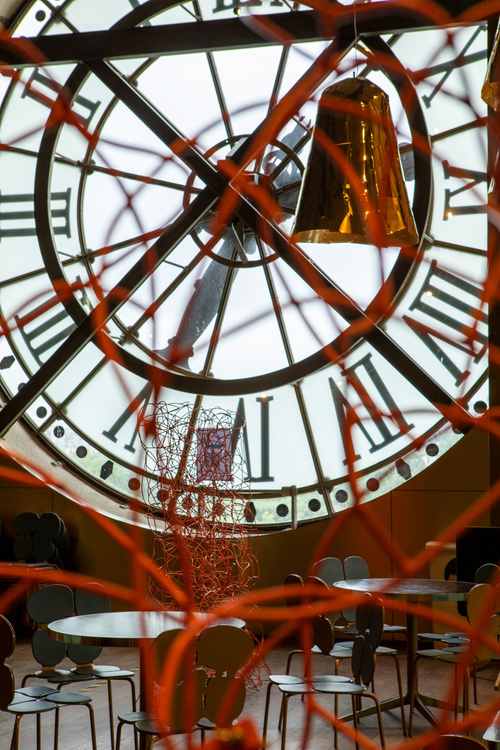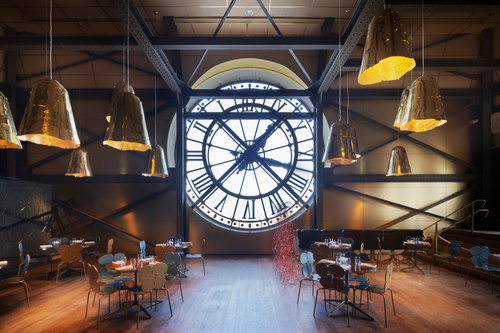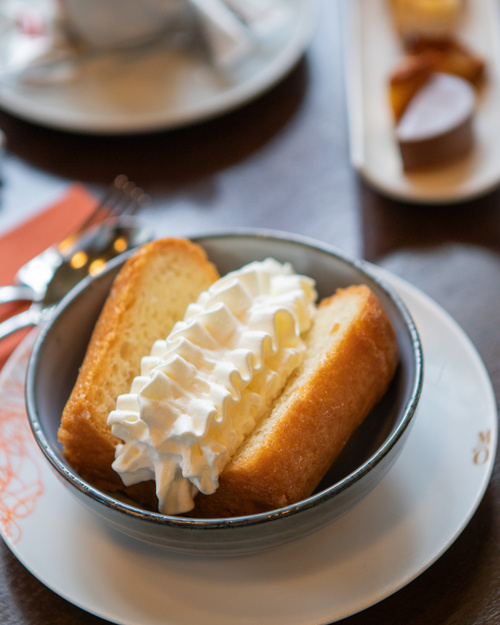 The Musée d'Orsay restaurants do not take reservations. For all group requests, please contact the sales department at the following email address: commercial.orsay@musiam-paris.com
Le Kiosque du Parvis
Located on the Bellechasse square of the museum, Le Kiosque du Parvis, welcomes you for a gourmet break.
Discover BURGAL, the vegan burger made with cereals and vegetables grown in France. You can also taste an ice cream or a sorbet from the Manufacture Alain Ducasse, made with high quality ingredients and traditional techniques.
Opening hours
The Kiosque du Parvis welcomes you from Tuesday to Sunday from 9:30 am to 5:30 pm.