Practical information
Museum and exhibition tickets:
Free for children (under 26 years old)
"Child and company" ticket: reduced admission for 2 accompanying adults of a young person under 18 years of age, residing in the European Union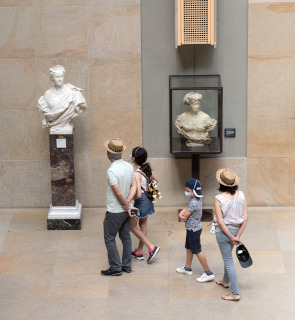 In order to make your visit to the museum with children easier, the museum provides various practical services:
Stroller loan
Overly bulky strollers and baby carriers are not allowed, but strollers are available at the coat check in exchange for ID.
Elevators
Thanks to elevators and ramps, the entire museum circuit, temporary exhibitions and commercial areas are accessible to people with reduced mobility and strollers.
Baby changing areas 
The museum provides a baby changing area located on level -1, on the adult group reception side.
Audio guide for young people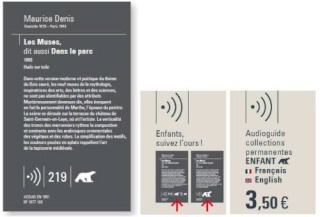 Launched in November 2021, the Musée d'Orsay offers an audio tour consisting of 52 points of interest covering all of the museum's collections. The works were selected around three themes: landscape, portrait, and animals. Children are invited to move freely through the rooms and activate the audio guide tracks as they wish.
The museum's mascot, Pompon, the erudite and slightly mocking polar bear, guides children as they discover the great works of the Musée d'Orsay.
These audio comments will allow children to guide their gaze, draw their attention to a pictorial technique, the composition or the subject of a work, and to learn more about the collection of the Musée d'Orsay in a light and fun tone.
 To be picked up at the "Audio Guide Desk"
Rate: €3.50
For children under 12 years old.
Available in French and English.
Plan your visit
Available free of charge, the roadmap "Destination: Musée d'Orsay" offers young visitors a time-space journey through the museum's permanent collections,
with Pompon the bear as a funny stationmaster to guide them on their journey. All aboard!
Free
Available in French and English
Upon request, at the reception desk
For children aged 6 years old and over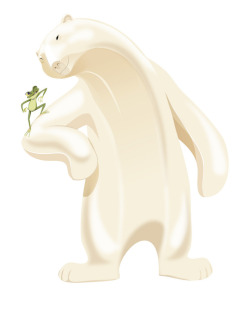 Organize your next family visit by creating your own tours, or discover the ones  offered by Pompon and Lily, our two mascots, on the kids website Les Petits M'O.