Concerts
Adrien Fournaison, baritone · Natallia Yeliseyeva, piano
The Triumph of Melody and Lied

A new dialogue between painting and music provided by this concert in the Triumph of Melody and Lied cycle with solitude as its theme, the subject of Alexander Harrison's eponymous painting, explored by two Orsay-Royaumont Academy laureates, Adrien Fournaison, baritone, and Natallia Yeliseyeva, pianist.
Solitude has provided ready inspiration for German composers. But they don't have a monopoly on the feeling: Brahms, Schubert and Schumann rub shoulders with Fauré, Barber and Stravinsky in a program put together by the baritone Adrien Fournaison and the pianist Natallia Yeliseyeva in order to evoke Alexander Harrison's painting.
---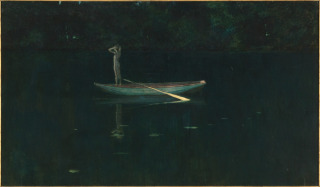 ---
Concert followed by a presentation of the painting in the Museum's galleries by an art history student.
Artists
Adrien Fournaison, baritone;
Natallia Yeliseyeva, piano.
Program
Richard Strauss, Im Spätboot, op. 56, no. 3;
Franz Schubert

Der Zwerg, D 771 [Matthaus Kasimir von Collin]; 
Am See, D 746;
An den Mond, D 296;

Johannes Brahms, Der Tod, das ist die kühle Nacht for voice and piano, op.96, no.1 [Heinrich Heine] extract from 4 Lieder; 
Nikolaï Medtner, Meeresstille, op.15, no.7 [Johann Wolfgang von Goethe] extract from 12 Goethe Lieder;
Hugo Wolf, Um Mitternacht [Eduard Möricke] extract from Lieder nach Gedichten von Eduard Möricke;
Robert Schumann, Requiem, op.90, no.7 extract from Sechs Gedichte von N. Lenau und Requiem;
Franz Liszt, Die stille Wasserrose, S 321;
Gabriel Fauré

La chanson du pêcheur, op. 4 no.1 [Théophile Gautier];
Cygne sur l'Eau , op.113 no.1 [Renée de Brimont] extract from Mirages ;
Seule!, op. 3, no. 1;

Igor Stravinsky, Un Grand Sommeil Noir, op.9 no.1 [Paul Verlaine] extract from Two Poems by Paul Verlaine for Baritone and Chamber Orchestra;
Samuel Barber, Un Cygne, op.27 no. 2 [Rainer Maria Rilke] extract from Mélodies Passagères;
Ivor Gurney, Sleep [John Fletcher] extract from Five Elizabethan songs;
Ottorino Respighi, Acqua, P. 107 no.4;
Ben Moore, Adieu!, no.8 [John Keats] extract from Ode to a Nightingale.
Upcoming dates
May
Tuesday 21 May

12.30pm

Auditorium du musée d'Orsay
Auditorium of the Musée d'Orsay
Esplanade Valéry Giscard d'Estaing
75007 PARIS, France
Tarifs
Tarif jeunes et solidarité

€8
Time slot reduced rate

€12