Concerts
Brenda Poupard, mezzo-soprano · Anne-Louise Bourion, piano
The Triumph of Melody and Lied

The concert cycle devoted to Melody and the Lied continues the dialogue between music and the Musée d'Orsay's collections, initiated by the artists themselves in this 2023-2024 season. An essential work, Van Gogh's Starry Night has inspired Brenda Poupard and Anne-Louise Bourion to create a fitting program, as poetic and melancholic as a night-time walk along the water's edge.
Vincent Van Gogh's Starry Night doesn't only make us hear the wind blowing over the Rhone. It's undoubtedly one of those painting whose contemplation most easily calls forth musical airs. Orsay-Royaumont laureates Brenda Poupard, mezzosoprano, and Anne-Louise Bourion, pianist, convene Liszt, Haendel, Massenet and other musicians to evoke it.
---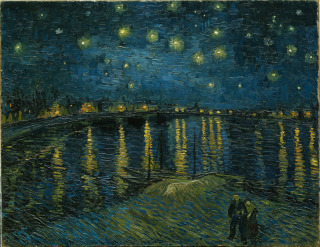 ---
Concert followed by a presentation of the painting in the Museum's galleries by an art history student.
Artists
Brenda Poupard, mezzo-soprano
Anne-Louise Bourion, piano
Program
Georg Friedrich Haendel, My Father, extract from the opera Hercules, HWV 60;
Gabriel Pierné, Tristesse;
Franz Liszt, Freudvoll und leidvoll, S 280 2 [Johann Wolfgang von Goethe];
Rita Strohl, Barcarolle, no.1 [Achille Segard] extract from Ten Poems Set to Music;
Jules Massenet,

Mélancolie [Anonymous];
Rose de Mai [Seymourina Poirson] extract from Lyrical Expressions ;

Reynaldo Hahn, Quand la nuit n'est pas étoilée [Victor Hugo];
Franz Liszt,

Lasst mich ruhen, LW N55, S. 317 [August Hoffmann von Fallersleben];
Gebet, LW E32, S 265;

Domenico Scarlatti, Keyboard sonata in F minor, K 466 L 118;
Gioachino Rossini, Ave Maria (su due sole note) extract from Péchés de Vieillesse , Vol. 1: Album Italiano;
Franz Liszt

Sonetto del Petrarca, no.123 "Vidi in Terra Angelici", LW A55, no.6 extract from Years of Pilgrimage. Second Year;
Über allen Gipflen ist Ruh for voice and piano, S 306, 1 extract from Wanderers Nachtlied ;

Edward MacDowell, Oben, wo die Sterne glühen, op.11 no.3.
Upcoming dates
February
Tuesday 27 February

12.30pm

Auditorium du musée d'Orsay
Auditorium of the Musée d'Orsay
Esplanade Valéry Giscard d'Estaing
75007 PARIS, France
Tarifs
Tarif jeunes et solidarité

€8
Time slot reduced rate

€12