Concerts
Cyrielle Ndjiki Nya, soprano · Kaoli Ono, piano
The Triumph of Melody and Lied

For this second Concert at 12:30 in the Triumph of Melody and the Lied cycle, Orsay-Royaumont Academy laureates Cyrielle Ndjiki Nya and Kaoli Ono explore the work of the only sculptor to belong to the Nabi group of artists: Georges Lacombe.
Birth, Existence, Love and Death are the four themes developed by Georges Lacombe in these reliefs, which were originally bed frames. Inspired by this sculpted series, the soprano Cyrielle Ndjiki Nya and the pianist Kaoli Ono have concocted a program that unfolds like a life path.
---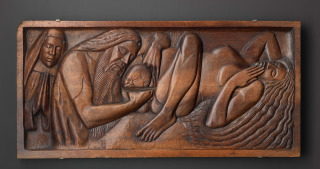 Artists
Cyrielle Ndjiki Nya, soprano;
Kaoli Ono, piano.
Program
Sergei Rachmaninoff, Spring waters, op. 14, no. 11;  Lilacs for piano, op. 21, no. 5; 
Richard Strauss, Morgen, op. 27, no.4 [John-Henry Mackay]; 
Claude Debussy, Trois Chansons de Bilitis, FL 97 [Pierre Louÿs]  (La flûte de Pan; La chevelure; Le tombeau des naïades);
William Bolcom, Amor [Arnold Weinstein];
Franz Schubert, Totengräbers Heimwehe, D 842; Der Zwerg, D 771 [Matthaus Kasimir von Collin]; 
Benjamin Britten, Funeral Blues [W. H. Auden] extract from Cabaret Songs; 
Ernest Chausson, Chanson perpétuelle for soprano and piano, op. 37 [Charles Cros]; 
Henri Duparc, L'invitation au voyage [Charles Baudelaire]; 
La vie antérieure [Charles Baudelaire]; 
Gabriel Fauré, La Mer est Infinie, op.118, no.1 [Jean De La Ville de Miremont] extract from L'Horizon Chimérique;
William Bolcom, Toothbrush Time [Arnold Weinstein] extract from Cabaret Songs.