The 1001 designs of the ABCD'Orsay
Sous-titre

26 Drawings by Mathias Augustyniak · an exhibition by M/M (Paris)
From November 08th, 2022 to March 12th, 2023 -

In 2021, Mathias Augustyniak walked the length and breadth of the Musée d'Orsay, returning as a friend, familiar with the venue. A year earlier, Mathias Augustyniak and Michaël Amzalag, founders of the graphic design studio M/M (Paris) in 1992, had exhibited in the museum's Art Nouveau rooms. Working in fields as diverse as typography, the visual arts, music, fashion, publishing and theatre, M/M (Paris) are now major contemporary artists. They strive continuously to build bridges with forms from the past in order to create forms for our own times.
To this end, Mathias Augustyniak has spent many hours at Orsay: "By immersing myself totally in the museum, I allowed myself to float freely, to experience the infinitesimal vibrations of each work. Like a human seismograph, I recorded 26 times over on the thick white pages of a large beige clothbound notebook, with a Japanese gold fountain pen in black graphite ink delivered through two high-flow feeds, my conversation between a work, its creator and the initial letter of their name."
During this journey, Mathias Augustyniak designed an alphabet intertwining the initial letter of each artist's name with motifs drawn from their works. The ABCD'Orsay presents a unique portrait of the collection. It features artists both famous and less well known, iconic works and more secret images, paintings, photographs, and objects. These letters are "drawings of the traces of a performance which shapes an encounter between the works, the artists and me. They tell the story of the movements of a typographic dancer, enlivened by conversations which were intimate and, therefore, extraordinarily human."
The very subjective and sensitive alphabet which unfolds in this fabulous ABC is a joyful contemporary take on the alphabet picture books of old, and offers a modern-day perspective on nineteenth-century creations.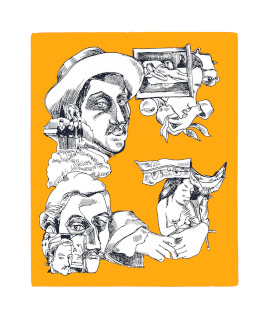 A — Louise Abbema
B — Rosa Bonheur
C — Gustave Courbet
D — Edgar Degas
E — Frederick H.Evans
F — Henri Fantin-Latour
G — Paul Gauguin
H — Vilhelm Hammershøi
I — Jean-Auguste-Dominique Ingres
J — Charles-François Jeandel
K — Gertrude Käsebier
L — Auguste et Louis Lumière
M — Édouard Manet
N — Nadar
I — Roderic O'Connor
P — Camille Pissarro
Q — Eugenio Quarti
R — Pierre-Auguste Renoir
S — Georges Seurat
T — Henri de Toulouse-Lautrec
U — Benjamin Ulmann
V — Vincent Van Gogh
W — James Abbot Mc Neil Whistler
X — X inconnu
Y — Ovide Yencesse
Z — Émile Zola
For further
Detailed presentation of the exhibition
Read