The Art of Eating in the 19th Century
From December 04th, 2001 to March 03rd, 2002 -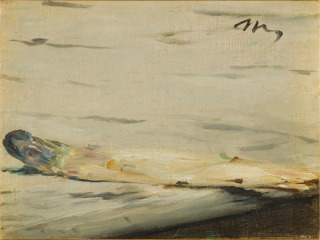 Presented in the prestigious decorated ballrooms of the former Orsay station hotel, the exhibition offers a panorama of the art of eating in the 19th century. Eating habits changed considerably during those years, in particular meal times, that progressively became those we are used to today. The service "à la française" inherited from royal tables, in which many courses are served at the same time, slowly gave way to the service "à la russe" where all guests eat the same course at the same time.
The invention of preserves, a true culinary revolution, the growing importance of some foods such as potatoes, rice, pasta or ice-creams, fresh fruit and vegetables as well as white coffee with toast for breakfast all appeared in the 19th century.
At the same time the modern restaurant imposed itself, with its menu, bill, individual tables and continuous service. The exhibition will mingle paintings, dishes, jewellery - in particular the pieces ordered in 1862 from the Maison Christophe by the Duc de Morny - architectural drawings, menus and unusual documents such as the first cans or an asparagus kept in formaldehyde since 1889, opposite Manet's painting The Asparagus. Part of the decoration of the famous Café Riche, dated 1894, will be reconstructed for this occasion.
For further
Detailed presentation of the exhibition
Read