Artist's house, Museum-house - the Example of Gustave Moreau
From 25 May to August 30th, 1987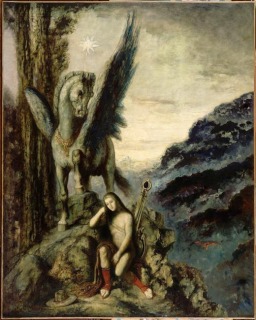 In the times of encyclopaedic museums that the 19th century represented, monographic museums were exceptions. Some artists, like Thorvaldsen in Copenhagen or Wiertz in Brussels, preceded Gustave Moreau in their determination to create a museum for their work. But Gustave Moreau (1826-1898) remains exemplary in that he built around the family mansion and at his own cost, in 1895, the large workshops destined for the museum.
In order that future generations could " see the amount of work and efforts the artist made during his lifetime ", he classified absolutely everything, enlarged some old pieces and designed new ones, in large format, worth featuring in a museum. He felt that creating a museum was an imperious necessity, rather than dispersing his work in a big posthumous auction sale as was usual at the time.
More than 6000 paintings, cardboard, water-colours and drawings are thus still on display on the walls and in mobile showcases.