Bohemian Life
From December 19th, 1986 to March 01st, 1987 -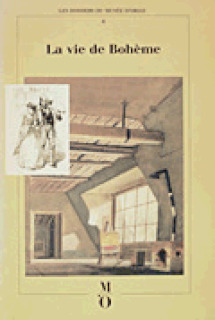 The term "bohemian life" used to refer to a lifestyle peculiar to certain literary and artistic groups, was born under the July Monarchy. Its apparition corresponded to a change in the status of artists and accounted for some of its aspects.
From then on, artists had to obey market forces and work for potential customers. Yet, everything concurred to oppose creators and buyers: lifestyle, centers of interest, ideals. Suspicion and misunderstanding reigned on both sides. Thus the term "bohemian" was to give birth to a hybrid referring to the fantasist life certain artists and writers led, choosing to live according to their search for pleasure: "bohemian life" was born.
Independence, freedom, fantasy and unconventionality became the other sides of precariousness, illness, marginality, misery. Balzac declared in 1840: "Bohemia has nothing and lives upon what it has. Hope is its religion; faith (in oneself) its creed; and charity is supposed to be its budget." Meanwhile Mürger warned that "Bohemia is a stage in artistic life: it is the preface to the Academy, the hospital or the morgue."
Some artists were to achieve fame after a period in bohemian life: Nadar (1821-1899), Champfleury (1821-1899), Mürger (1822-1861) amongst others.