Claude Rutault, After the Masters
The Gates of Painting
From April 18th to September 03rd, 2023 -

Claude Rutault, one of the leading French contemporary artists of his generation, died on May 21st, 2022. In this spring 2023, the Musée d'Orsay, in collaboration with the National Museum of Modern Art and the Louvre Museum*, will be paying tribute to him by presenting la porte de la peinture (The Gates of Painting), a work inspired by Auguste Rodin's La Porte de l'Enfer (The Gates of Hell).
Painting was not the most important thing for Claude Rutault, who also said that he did not choose the color of his canvases. Nonetheless, he defined himself as a painter, being fascinated by painting, its history, evolution, paradoxes and impasses, rebounds and reinventions. And that is how he conceived his own work, material in perpetual methodical redefinition, documented in the form of "definitions/methods". These short summary texts, written without capitalization, specify the methods for creating a painting, delegated to a "charge-taker".
The best-known example of this procedure is his first definition/method, toile à l'unité (Canvas Unit), written in 1973: "a canvas stretched on a frame and painted the same color as the wall on which it hangs; all available standard formats are usable, whether rectangular, square, round or oval. traditional hanging". Claude Rutault often based his works on those of the masters, thinking up definitions/methods in tribute to such painters as Poussin, Watteau, Manet, Seurat and Matisse.
Rodin's Porte de l'Enfer in the Musée d'Orsay's collections fascinated Rutault. The artist first gave thought to a work in the form of a door in 2008, to be created through an assemblage of several definitions/methods updated for the occasion. His notebooks contain jottings and plans bearing witness to the work's evolution, without its finished state ever being finalized. Claude Rutault and Quentin Lefranc, who had worked alongside him for several years, created a model that gave shape to what he had designed la porte de la peinture. This one, created according to his instructions, is exhibited at the Musée d'Orsay and dialogues with Rodin's masterpiece.
*The Louvre Museum will be presenting a work that Claude Rutault based on a Fayum mummy portrait, while the National Museum of Modern Art will be exhibiting a work connected with one of Marcel Duchamp's readymades. The three exhibitions are designed and organized in close collaboration with Ninon Rutault and Quentin Lefranc.
Exhibition artworks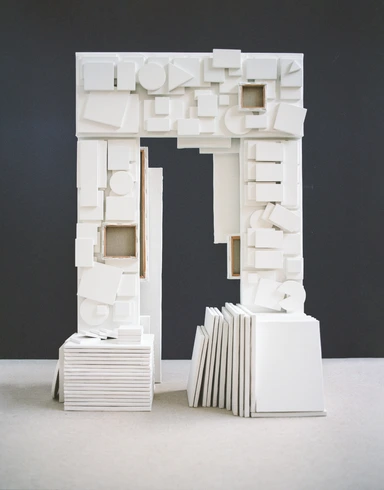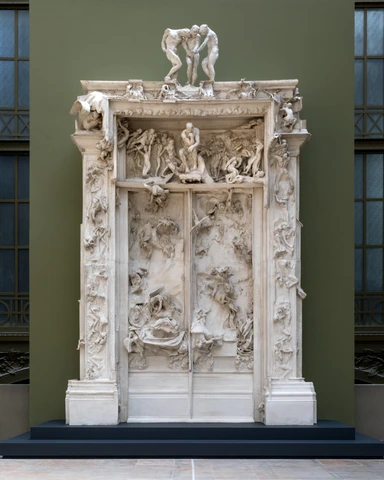 Related articles
Current exhibitions
Folders around the exhibitions