Degas and the Nude
From March 13th to July 01st, 2012 -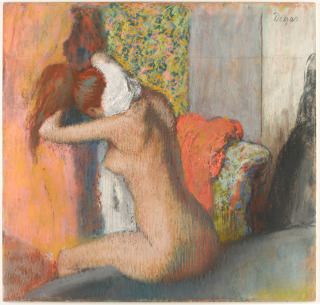 The first major monographic exhibition in Paris devoted to Edgar Degas (1834-1917) since the 1988 retrospective at the Grand Palais, Degas and the Nude contributes to the ambition of the Musée d'Orsay to show the recent progress in research regarding the great masters of the second half of the 19th Century, following the homage to Claude Monet (1840-1926) and more recently Edouard Manet (1832-1883).
This exhibition explores Degas's evolution in his practice of the nude, from the academic and historical approach of his early years down to the inscription of the body in modernity throughout his long career. A predominant element in the artist's work, together with dancers and horses, nudes are presented through all of the techniques used by Degas, including painting, sculpture, drawing, printing and above all pastel, which he brought to its highest degree of achievement.
Organised in partnership with the Museum of Fine Arts, Boston, the exhibition takes advantage of the very rich collection of graphic works of the Musée d'Orsay, seldom shown due to its fragility, to which will be added exceptional loans from the largest collections, such as those of the Philadelphia Museum of Art, the Chicago Art Institute and the New York Metropolitan Museum.
For further
Detailed presentation of the exhibition
Read
Current exhibitions
Folders around the exhibitions