Eugène Cuvelier (1837-1900) : Photographs of the Fontainebleau Forest
From June 10th to August 31st, 1997 -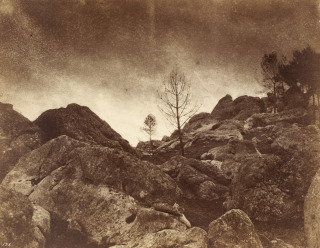 The Musée d'Orsay received an exhibition featuring about fifty works by Eugène Cuvelier (1837-1900), one of the greatest French landscape photographers. This one-man exhibition was the first on this artist in France.
Aldabert Cuvelier (1812-1871), Eugène's father, was an oil-maker and an amateur photographer. He set up a circle of friends around Corot, whose works he collected, in Arras. He invented the technique of the glass-print: on a glass pane covered with a substance, one draws with a sharp tool a negative print sensitive to light destined to be printed on paper afterwards. He taught this process to Corot, which would afterwards be used by Eugène Delacroix, Charles Desavary, amongst others.
Eugène Cuvelier, a pupil of the painter Constant Dutilleux, was also an amateur photographer. In 1859, he married Louise, the daughter of the famous publican Ganne, who invited all the Barbizon painters to his house : Corot, Jean-François Millet and Théodore Rousseau. The painters no doubt influenced Eugène Cuvelier, whose photographic work on Arras and Fontainebleau they admired. Besides, although Charles Marville (1816-c1878), Gustave Le Gray (1820-1884) and Charles Nègre had preceded him in Fontainebleau in the late 1840s and the early 1850s, Cuvelier produced the most accomplished vision of the forest. In the 1860s, he used a process already defunct at the time, the negative paper, giving his pictures an incomparable softness. It moreover offers a highly varied vision of the forest: misty undergrowth, cleared alleys, mossy rocks and, above all, sand dunes of a surprising modernity, reaching out of a landscape that looks as if it were from another planet.
Current exhibitions
Folders around the exhibitions