Family Albums : Figures of Intimacy
From November 11th, 2003 to February 15th, 2004 -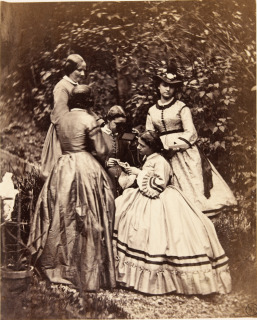 Thanks to photography, a new genre of representation appeared at the end of the 19th century, testifying to family links of affection. It bloomed in the family albums the bourgeoisie and aristocracy prepared for their relatives. Often skilfully composed, these albums also allow the exploration of the aesthetic qualities of this genre. They preserve and promote intimacy, they show faces and lifestyles, while revealing new visual research.
The Musée d'Orsay collection is exceptional as it includes shots taken in artistic circles, sometimes by the artists themselves, that show the intimate side of famous people. The first family portraits are daguerreotypes that remain static and restrained, in particular those of Millet's family.
Then diverse emotions are visible: the albums of the Menier, Vaudoyer and Henri Lemoine families record happy moments. Finally, with the apparition of instant pictures, relatively solemn group portraits will be succeeded by images of children playing, laughs and swimming parties, such as those of the Terrasse family shot by Bonnard.
For further
Detailed presentation of the exhibition
Read