Gaudí
From April 12th to July 17th, 2022 -

Antoni Gaudí (1852-1926), architect and ingenious creator, made his mark on Spain at the turn of the 20th century and continues to fascinate today. For the first time in fifty years in France, a large-scale exhibition is devoted to this master of Art Nouveau. It will show the remarkable creativity of this singular artist, who was the bearer of the upheavals at work in Catalonia at the end of the 19th century, and who expressed himself as much in the details of his furniture as in the scale of an extraordinary architectural project: the Sagrada Familia in Barcelona.
The Musée d'Orsay will host the first major exhibition devoted to Antoni Gaudí organized in France in Paris in fifty years. In an immersive museographic experience, it will show the spectacular creations of this unique artist, in particular, presenting sets of furniture never before exhibited in France. It will offer a new vision of the artist as a unique and singular figure, a non-isolated genius who practiced in a Catalonia in the midst of social, political and urbanistic upheaval.
The exhibition will focus on showing the architect's creative process at a time of an exceptional local artistic profusion linked to "Modernism" or the Art Nouveau movement in Spain, supported by distinguished patrons, anxious to distinguish Catalonia, a land of Mediterranean identity. Gaudí's workshop, his many collaborators, and his sophisticated working techniques will be the guiding line of the exhibition to make the public understand the extraordinary inventive capacity of the architect who defied all the creation of the moment.
Through the few surviving drawings of the artist, models and many works of furniture, the exhibition will reconstruct what characterizes Gaudí: space and color. It will lead visitors through his creations of palaces, urban hotels, parks, churches with the unusual project of the Sagrada Familia. Films, photographs and period documents will testify to the vitality of the plastic architect's career but also to the artistic upheaval operated forever on Barcelona.
Exhibition organized by the Musée d'Orsay and the Musée de l'Orangerie, Paris, with the Museu Nacional d'Art de Catalunya in Barcelona (MNAC)
Exhibition on display from November 19, 2021 to March 6, 2022 at Museu Nacional d'Art de Catalunya in Barcelona (MNAC)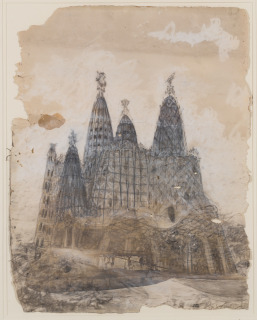 Events, tours and articles
Gaudí • exhibition from april 12 to juillet 17
Find out more
For further
Detailed presentation of the exhibition
Read
Current exhibitions
Folders around the exhibitions