Gift in memory of Bruno Foucart (1938-2018)
From June 08th to November 06th, 2022 -

Seven works from the former collection of art historian and 19th century specialist Bruno Foucart, who passed away recently, have entered the collections of the Musée d'Orsay. They were donated by his brother, Jacques Foucart and his wife, Élisabeth Foucart-Walter, through the intermediary of the Society of Friends of the Musée d'Orsay, which was established in 1980 to support the development of the museum through its generosity. Bruno Foucart served as its administrator.
As a university professor, exhibition curator and regular contributor to several publications, Bruno Foucart was a major figure in the world of art history. He tirelessly championed the rediscovery and reappraisal of academic art and was a key figure in the campaign to protect 19th century and early 20th century architectural heritage, both religious and industrial. He played a decisive role in the protection of the Gare d'Orsay (1973), and the subsequent creation of the museum (1977).
His taste for artists overlooked by the history of modernity and by institutions – the "lost artists of history" as he called them – led him to begin building a fine and eclectic amateur collection in the 1960s. Seven works joined the collections of the Musée d'Orsay through the Société des amis des musées d'Orsay et de l'Orangerie. Several other gifts have been made in his memory to the Musée du Petit Palais in Paris and the Musée des Beaux-Arts in Rennes.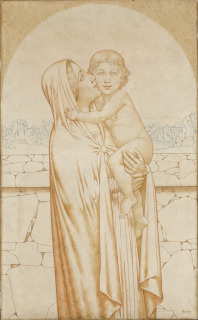 On display room 8b, level 0 
Current exhibitions
Folders around the exhibitions