Girault de Prangey - Photographer (1804-1892)
From May 19th to July 11th, 2021 -
Musée d'Orsay
Esplanade Valéry Giscard d'Estaing
75007 Paris
Map & itinerary

Forgotten for over a century, Joseph-Philibert Girault de Prangey (1804-1892), born in Langres, has for the last twenty years been regarded as one of the leading figures of early French photography. This wealthy aristocrat who chose to become a painter and illustrator, archaeologist and architectural historian, a ""gentleman scientist"" studying rare plants and birds, was also a pioneer of the daguerreotype. This technique, which he mastered perfectly as of 1841 enabled him to produce a body of work of unrivalled quality and breadth.
With no fewer than 1,000 plates identified to date – a number which may yet rise as the extent of his work is still something of a mystery - this body of work was produced for the most part between 1842 and 1844, during a journey around the Mediterranean from Italy to Egypt by way of Greece, Turkey, Syria, Lebanon, Jerusalem and Palestine.
In an entirely new approach, this collection will also be placed within the production that preceded and followed this journey. The exhibition reveals that from the 1850s on, Girault de Prangey developed a very rich corpus of paper photographs of unsuspected breadth and quality. It thus presents a new and more complete view of the great photographer that he was from the 1840s to the 1870s, a view only partially reflected in his spectacular daguerreotypes.
The exhibition will present around one hundred daguerreotypes, along with around fifty recently discovered and hitherto unseen paper photographs, paintings, drawings, lithographs and illustrated books by Girault de Prangey, comparing them with the works of his contemporaries. This body of work will be analyzed within the context of France from the 1830s to the 1880s – artistic and archaeological – and against the background of the boom in illustrated scientific publications and the growth of intellectual societies on archaeology and horticulture, in order to give a decidedly new insight into Girault de Prangey's personality and his development as an artist and photographer.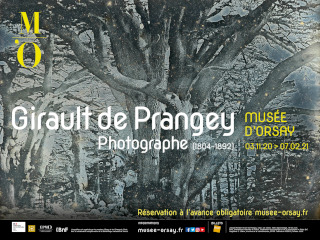 Organized by the musées d'Orsay et de l'Orangerie, Paris, with the special collaboration of the Bibliothèque nationale de France.
Echoing the exhibition Monumental Journey. The Daguerreotypes of Girault de Prangey organized by and at the Metropolitan Museum of Art, New York in Winter 2019.
The Langres museum is currently presenting, until 29 November 2020, the exhibition A THOUSAND AND ONE ORIENTS, The great journeys of Joseph-Philibert de Prangey (1804-1892).
For further
Detailed presentation of the exhibition
Read
Current exhibitions
Folders around the exhibitions