Glasgow 1870, Thomas Annan
Photography and public health
From June 08th to September 04th, 2022 -

In the mid-nineteenth century, Glasgow was a major overcrowded industrial centre. Housing conditions in this "second city of the British Empire" were considered to be among the worst in Europe. The alleys, wynds and closes in which the influx of industrial workers was concentrated were a warren of dark, damp wellings without running water or drainage, where epidemics of cholera, typhus and typhoid fever were rife.

In 1866, the City Improvements Act authorised the demolition of these slums. The desire expressed by the City of Glasgow Improvements Trust to document these areas earmarked for clearance was made official two years later in the form of a public commission. The obvious choice was Thomas Annan, a professional photographer working in Glasgow since 1855, who was renowned for his portraits, landscapes, reproductions of works of art, and architectural views.
Between 1868 and 1871, Annan produced at least 31 photographs, which were published in two editions in his lifetime (in 1872 and 1877), and in a posthumous volume edited by his son and successor James Craig Annan (1900). The Musée d'Orsay has a complete copy of the limited edition of 1872, the only one featuring original photographs using the albumen print process, a selection of which are presented in this hanging.
Annan's cramped working conditions and the dire lack of light proved to be particularly difficult for a photographer using cumbersome and fragile apparatus, who was forced to carry out all his chemical processes in situ. Annan followed the brief for his commission closely, turning his lens on the buildings themselves as observed from the closes. However, his images were consciously constructed in such a way as to include human touches which are both powerful and spontaneous: washing hung out to dry, ghostly silhouettes caught in motion but which the exposure cannot capture clearly, and the intrigued faces of local residents observing the photographer, who is a stranger to the area, from a distance.
The aims and official status of Annan's project are similar to those of Charles Marville, whose series known as "Album du Vieux Paris" (1865-1868) was commissioned by the City of Paris prior to the demolitions scheduled by Baron Haussmann. The theme and personal sensitivity of this first photographic campaign devoted to insalubrious housing, preceding by two decades the campaign carried out in New York by photojournalist and reformer Jacob Riis (How the Other Half Lives, 1890), established Annan as a pioneer of documentary and social photography.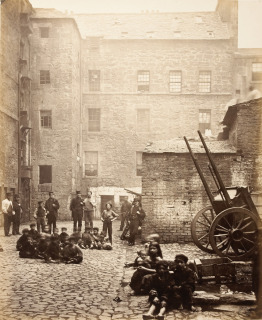 Hanging presented in room 8c, ground floor
Current exhibitions
Folders around the exhibitions