Henri Rousseau Jungles in Paris
From 15 March to June 19th, 2006 -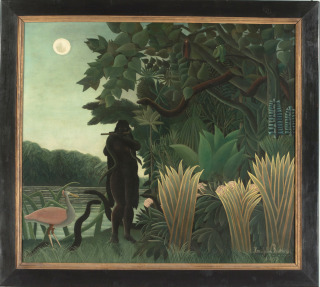 Henri Rousseau, an entirely self-taught artist known as "the douanier" because of his day-job as a menial clerk at the Paris City Customs, transcended his modest social station through his painting.
Though he never left France, Rousseau painted his "Jungles" drawing inspiration from popular imagery and the stories of the day, and so made a name for himself as the pioneer of the new exoticism. The exhibition includes a dozen of these exotic paintings, which express a variety of moods: from wild beast fights and terrifying forests, to tranquil scenes where Rousseau has used facetious monkeys in place of people.
These exotic canvases are juxtaposed with self-portraits and portraits, views of Paris and its suburbs and allegorical paintings, all of which elucidate the artist's creative approach; Rousseau along with Gauguin, although in a very different sense, was one of the precursors of Primitivism. Some of the pictures exude an underlying sense of menace which prefigures the palpable apprehension in the jungle paintings of almost ten years later. Rousseau is a master of the art of giving a strange edge to the familiar and, in this respect, he anticipates surrealism. Nowadays he is considered as a precursor of 20th-century art.