James McNeill Whistler (1834-1903), Masterpieces of the Frick Collection, New York
From 08 February to May 08th, 2022 -

The Frick Collection, opened to the public in 1935 in the New York mansion of industrial magnate and major collector Henry Clay Frick (1849-1919), is one of the most important museums of European art in the United States. With the closure of the institution for renovations and the temporary presentation of the collections at the "Frick Madison" between 2021 and 2023, an important group of works by the American painter James Abbott McNeill Whistler (1834-1903) will leave New York for the first time in more than a century to be presented at the Musée d'Orsay in early 2022. This exceptional presentation brings together 22 works, including 4 paintings, 3 pastels and 12 etchings from the Frick Collection as well as 3 paintings from the Musée d'Orsay collections.
Along with the United States and the United Kingdom, France was one of the painter's three homelands. Born in 1834 in Massachusetts, Whistler apprenticed and began his career in Paris between 1855 and 1859. After settling in London, the artist maintained a close connection with the Parisian art scene, exhibiting alongside the artists at the Salon des Refusés (Exhibition of Rejects), in 1863, and became one of the "beacons" of the new Symbolist generation in the 1890s. In 1891, the French State bought his masterpiece: Arrangement en gris et noir : portrait de la mère de l'artiste [Arrangement in Grey and Black No. 1: Portrait of the Artist's Mother]. Around the same time, Henry Clay Frick built his collection, and in the early 1910s, opened it to the art of the late 19thcentury. He purchased eighteen works by Whistler - paintings and graphic arts - making this artist one of the best represented in his collection. Today, Whistler's large full-length portraits are among the most admired works by visitors, alongside the remarkable paintings by Holbein, Rembrandt, Van Dyck or Gainsborough in the collection.
The Musée d'Orsay will present the astonishing landscape L'Océan [The Ocean], painted by Whistler during a trip to Chile, three pastels and twelve prints with Venetian subjects, and three large portraits representative of his famous "symphonies in white" and "arrangements in black": the portrait de Mrs Frederick Leyland [portrait of Mrs. Frederick Leyland] (a masterpiece of the Aesthetic Movement), the portrait de Rosa Corder [portrait of Miss Rosa Corder], and finally the portrait of the extravagant aesthete Robert de Montesquiou-Fezensac. This portrait, one of the last painted by Whistler, is probably the most modern work in the Frick's collection. Since 2022 will be dedicated to Marcel Proust, the centenary of whose death we will be celebrating, this effigy will also remind us of the influence of Montesquiou and Whistler on the development of Proust's novel In Search of Lost Time and the creation of the characters of Baron de Charlus and the painter Elstir.
Exceptional presentation in Room 9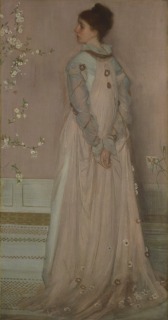 Events, tours and articles
James McNeill Whistler (1834-1903), Chefs-d'œuvre de la Frick Collection, New York · présentation exceptionnelle du 8 février au 8 mai 2022
Find out more
Related articles
Current exhibitions