James Tissot (1836-1902), Ambiguously modern
From June 23rd to September 13th, 2020 -
Musée d'Orsay
Esplanade Valéry Giscard d'Estaing
75007 Paris
Map & itinerary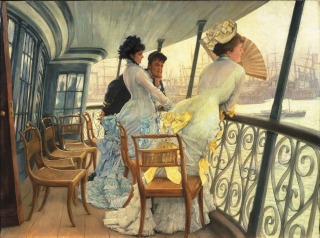 Jacques Joseph Tissot, born in Nantes and a student of the Ecole des Beaux-Arts in Paris, is a major artist of the second half of the 19th century. He was a fascinating, ambiguous figure whose career spanned the English Channel.
Although he has regularly featured in exhibitions devoted to this period, this retrospective is the first dedicated to him in Paris since the exhibition organised at the Petit Palais in 1985.
In the late 1850s, Tissot made his debut in the capital, where his passion for Japanese art and his connections with the most influential circles helped further his painting. In the melting pot that was Paris, in an era when modernity, as formulated by Baudelaire, found its expression in the paintings of Whistler, Manet and Degas, Tissot, with his dandy image, was popular with fashionable society.
After the war of 1870 and the Paris Commune, he moved to London and pursued a high profile career where he moved in the best circles.
Gradually his work focused on the initially radiant, then increasingly frail figure of his companion, Kathleen Newton, who was always present in his paintings. After her death in 1882, Tissot decided to return to France.
His career continued with images of Parisian women of different social classes engaged in various occupations, the subject of a great series of paintings, Women of Paris), and explorations of mystical and religious subjects, with the Prodigal Son series and hundreds of illustrations of the Bible, which brought him great fame at the turn of the 19th century.
With its focus on the figure of James Tissot and a desire to set the art of this painter in the artistic and social context of his time, the exhibition presents both the great successes of an artist who often created iconic images, and his boldest experiments.
It also examines his materials and painting techniques, the themes that were dear to him and their variations, as well as his desire to express himself in different media, such as prints, photography and cloisonné enamels, in addition to painting.
For further
Detailed presentation of the exhibition
Read
Current exhibitions
Folders around the exhibitions