Johan Barthold Jongkind (1819-1891)
From June 02nd to September 05th, 2004 -
Musée d'Orsay
Esplanade Valéry Giscard d'Estaing
75007 Paris
Map & itinerary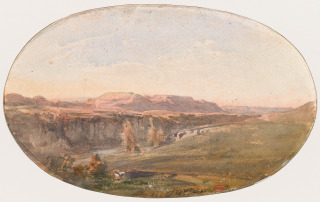 Born in the Netherlands, Jongkind spent a large part of his life in France, his adoptive country, like his fellow-countryman Vincent van Gogh. His early landscapes show with much sensibility different places in his native country in the Dutch tradition, learnt in particular from his teacher the painter Andreas Schelfhout (1787-1870) in The Hague. Following the painter Eugène Isabey (1803-1886), Jongkind pursued his training in Paris, from 1846 onwards. It was in the early 1860's that he expressed his fondness for seascapes, during his sojourns on the Normandy coast at Le Havre, Sainte-Adresse, Honfleur, Trouville... There he became acquainted with Boudin and above all met Monet, who was to acknowledge the debt he owed the Dutch artist : "I owe him the definitive education of my eye".
For the freshness of his vision, particularly remarkable in his watercolours, Jongkind is rightly considered a precursor of Impressionism; he also took part in the Salon des Refusés in 1863 with the painting Ruines du château de Rosemont (musée d'Orsay). From 1873 onwards, Jongkind discovered the Dauphiné.
He ended his life in la Côte-Sainte-André, where he was buried in 1891. The artist left several landscapes painted in the Nièvre, the Dauphiné, or evoking his 1880 trip to the Midi.
With this exhibition retracing the stages of the artist's career and highlighting the diverse facets of his too-long neglected work, the Musée d'Orsay intends to pay a well-deserved homage to Jongkind and his place at the confluence of both the French and Dutch traditions.
For further
Detailed presentation of the exhibition
Read
Current exhibitions
Folders around the exhibitions