Joris-Karl Huysmans Art Critic. From Degas to Grünewald, in the Eye of Francesco Vezzoli
From November 26th, 2019 to March 01st, 2020 -
Musée d'Orsay
Esplanade Valéry Giscard d'Estaing
75007 Paris
Map & itinerary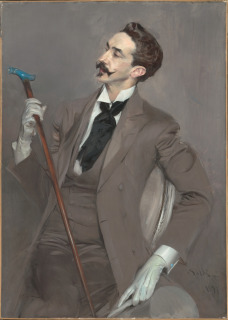 A key writer of the late 19th century, Joris-Karl Huysmans (1848-1907) was an art critic who is still little known or little understood by the general public. However, his contribution to the artistic press and the aesthetic debate was as decisive as the impact of his novel Against Nature.
More passionate about Hals and Rembrandt until his discovery of Degas in 1876-1879, Huysmans admitted that this was a defining moment. And yet, his art criticism immediately accepted the possibility of a double modernity. The modernity of the painters of modern life and that of the explorers of dreams were not mutually exclusive. Here, Manet coexists with Rops and Redon. The desire Huysmans showed very early on to escape from the logic of church doctrine no doubt blurred the perception of his aesthetic choices.
The exhibition, therefore, aims to show that this early disciple of Zola secretly, and later openly, acted as the heir to Baudelaire's The Flowers of Evil. And so the public is invited to step once more into a particular moment in European art and modern sensibility at the intersection of the Naturalist advance of the 1870s, the decadent movement of the 1880s-1890s and the "return" to the "Primitives" against a backdrop of Catholic renaissance. There have been few great writers so involved in this vast movement of the time.
For further
Detailed presentation of the exhibition
Read
Current exhibitions
Folders around the exhibitions