Kehinde Wiley
From September 13th, 2022 to January 08th, 2023 -

As an extension of the Kehinde Wiley exhibition, organized at the Fondazione Giorgio Cini during the 59th Venice Biennale, the Musée d'Orsay is displaying three monumental works by the artist within its Nave: a painting, Femme piquée par un serpent (Woman Bitten By A Snake) (Mamadou Gueye), and two recently-completed sculptures (An Archeology of Silence and The Young Tarantine).
These works take an in-depth look into the approach developed through the DOWN series that started in 2008. Initially inspired by Hans Holbein's famous Le Christ mort au tombeau (The Body of the Dead Christ in the Tomb), as well as historical paintings and sculptures of fallen warriors and figures at rest, Wiley created a disturbing series featuring bodies of color lying on the ground. He thus re-conceptualizes classic pictorial forms in order to create a contemporary version of the monumental portrait that resounds with violence, pain, death and ecstasy.
As Christophe Leribault, President of the Musée d'Orsay and the Musée de l'Orangerie, states:
"Whilst playing with the stereotypes of Western painting and sculpture, Kehinde Wiley carries an up-to-date message concerning the violence of contemporary society. I wanted to display these works as an actual strand of those collections at the Musée d'Orsay that have been such an inspiration to him and of which he offers a fascinating rereading."
Kehinde Wiley (born in Los Angeles in 1977) is a world-renowned visual artist, famous for his dynamic representations of African-Americans and contemporary Afro-diasporic representations that overturn the hierarchies and conventions of the European and American portrait. Working in the mediums of painting, sculpture and video, in his portraits Wiley challenges the narratives of art history, raising complex socio-political issues that have long remained taboo.
In 2018, at the request of Barack Obama, Wiley was the first African-American artist to paint an official portrait of an American president for the Smithsonian National Portrait Gallery.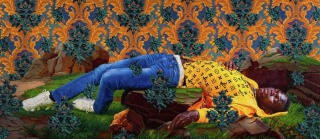 Due to a performance being given in the museum, the artist's sculpture An Archeology of Silence will not be on view between November 14 and 28, 2022.
Related articles
Current exhibitions
Folders around the exhibitions