Léon Gimpel (1873-1948), the audacious work of a photographer
From 12 February to April 27th, 2008 -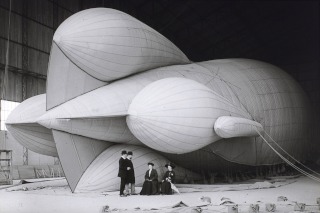 Although little known today, Léon Gimpel was a famous amateur photographer in the Belle Epoch. He gave free rein to his imagination, producing photographic reports for newspapers and magazines, as well as several series of photographs designed to bring science to the general public. Driven by his insatiable curiosity for things technical, he tried to push the medium to its furthest limits. Thus he moved from amateur to virtuoso. He captured, in black and white, the Eiffel Tower being hit by lightning, he recorded nocturnal scenes of Paris now lit by electricity, and also reproduced the aerial views seen by the first aviators from their new machines.
In 1907, at the offices of L'Illustration, Gimpel was involved in presenting the autochrome, the first commercial process for colour photography. He exploited its potential brilliantly, reproducing colour images of mountain landscapes, illuminated façades and scenes of Parisian life – in short, he glorified the dazzling world of the Belle Epoch.
The exhibition brings together autochromes and paper prints, as well as plates used for projection shows which were as popular then as the first moving pictures.
For further
Detailed presentation of the exhibition
Read