Manet, the Man who Invented Modernity
From April 05th to July 17th, 2011 -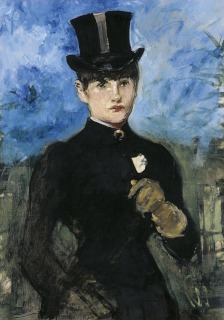 More than a one man retrospective for Edouard Manet (1832-1883), the exhibition Manet, the Man who Invented Modernity explores and highlights the historical situation around him, including the reaffirmed legacy of Romanticism, the impact of his contemporaries and the changes in the media at the time.
Manet was also Modern in the way he challenged the ancient masters from Fra Angelico to Velazquez. This exhibition takes another look at the many links that the painter resolutely created and rejected within both public and political spheres. For modernity was also a question of integration and of resistance. The exhibition will therefore focus on the teaching of Thomas Couture, Baudelaire's support and encouragement, the reform of religious art, erotic imagery, the art of the fragment(ed), his relationship with women painters (Berthe Morisot, Eva Gonzalès), the temptations of high society, his decision to remain outside the main Impressionism movement and his complicity with Mallarmé at his darkest.
The reconstruction of his exhibition at the Gallery La Vie moderne, organised in March-April 1880 at the start of the Salon, will raise the question finally of what "the freedom to create" meant to him. This means that Manet, the Man who Invented Modernity focuses on later works that are less well known and, more importantly, little-understood if regarded as simply a stage of the process towards "pure painting".
This is the first major exhibition devoted to Manet in France since the memorable 1983 exhibition at the Galeries Nationales du Grand Palais, organised by Françoise Cachin, former director of the Musée d'Orsay.
For further
Detailed presentation of the exhibition
Read
Current exhibitions
Folders around the exhibitions