Mariano Fortuny y Marsal, the memory of the Orient
From 24 May to September 11th, 2022 -

Painter, draughtsman, engraver, the Spanish artist Mariano Fortuny y Marsal (1838-1874) was a cosmopolitan artist. A great traveler, this Catalan resided in Rome, stayed several times in the European capitals of Paris, London and Madrid and also went to Andalusia and Morocco. In Paris, he frequented many artists, including Jean-Léon Gérome and Gustave Doré. His career was interrupted early by a lung disease when he was 36 years old.
Mariano Fortuny y Marsal was undoubtedly the most internationally renowned Spanish artist of the 19th century. He received a traditional training at the Barcelona School of Fine Art and studied under Claudio Lorenzale, a fervent admirer of the golden age of Dutch painting. After winning the Prix de Rome in 1858, he travelled to Italy before the Spanish government could harness his youthful talent for the military expedition to Morocco in 1860. Fortuny began his travels with a study trip to Paris.
Charismatique et fidèle en amitié, il s'entoure, à Paris, Rome, Madrid ou Grenade, d'artistes et d'amateurs qui lui prodiguent leur bienveillance. Le marchand de tableaux Adolphe Goupil et le baron Davillier le placent sous leur protection. Il rencontre Ernest Meissonnier, Jean-Léon Gérome lui prête son atelier, Henri Regnault l'admire, Georges Clairin voyage avec lui et Gustave Doré devient un proche. Il fréquente Giovanni Boldini, séduit par ses scènes de genre pittoresques et ses compatriotes, notamment Eduardo Zamaïcos.
Voyageur, collectionneur, connaisseur, l'œuvre de Fortuny se situe à la confluence de plusieurs influences tout en exprimant une véritable liberté de création.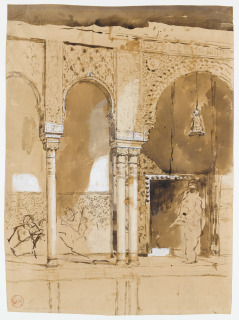 Graphic art works 
Henriette Fortuny, the widow of his son, the painter, photographer and designer Mariano Fortuny y Madrazo (1871-1949) bequeathed 9 sketchbooks and 91 drawings to the Musée du Louvre in 1950. She was keen that these 799 graphic items bearing the artist's studio stamp should be representative of his work, but also reflect his pursuits in Paris alongside art enthusiasts and artists who nurtured the two facets of his activities as a painter of rococo fantasies and a collector of Islamic art.Mariano Fortuny was a prolific draughtsman.
His travel sketchbooks feature treasures which recall his time in the East. Rubbings of architectural elements or the chasing on a weapon, watercolours, graphite pencil or pen and ink drawings which resemble engravings, and even photographs of Andalusia – this wide array of different techniques traces the scope of the Catalan artist's forms of expression.
Many of the drawings on loose sheets in the Musée d'Orsay collection are pages torn from his sketchbooks on his travels or detached in order to rework them. This selection focuses on Fortuny's trip to Andalusia and Morocco from 1870 to 1872 and shows the painter developing his own personal style and moving beyond the fantasy image of a luxurious Orient.
On display room 41, level 5