Maurice Denis
From October 31st, 2006 to January 21st, 2007 -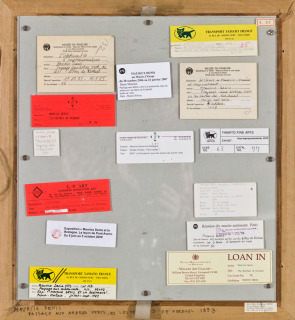 Maurice Denis (1870-1943) was the theoretician of the Nabi group and one of its most exceptional artists. The Musée d'Orsay is paying tribute to him in an exhibition which includes all the diverse aspects of his work.
Denis was much involved in the aesthetic debates of his time and during the 1890s, painted bold pictures in which the rhythm, the flat-tone colours, and the composition, all went to infuse the work with a decorative force. Later, influenced by the art of classical Italy, he went on to create larger, more classical compositions. The public are able to follow this development in a display which highlights his major pieces, some of which have rarely been shown.
An important place has been accorded to his large decorative series', in particular to a reconstitution of The Story of Psyche (Saint-Petersburg, The Hermitage Museum), which was made in 1908 for the private mansion of one of the greatest art collectors in Moscow, Ivan Morozov.
During the inter-war period, Maurice Denis was one of the most important decorative artists, being commissioned to decorate buildings as varied as theatres, churches and public buildings.
To complement the exhibition, a Maurice Denis walk will take place on the Ile-de-France, enabling participants to appreciate those decorative features which have remained in their original settings; imposing works which testify to the revival of monumental art in the first half of the 20th century (Théâtre des Champs-Elysées, église Notre-Dame du Raincy, etc.).
Parallel presentations of Denis' drawings and photographs in supplementary exhibitions will also provide a wider panorama of his work.
For further
Detailed presentation of the exhibition
Read