The Modern Woman.Drawings by Degas, Renoir, Toulouse-Lautrec and Other Masterpieces from the Musée d'Orsay
From 05 June to September 06th, 2010 -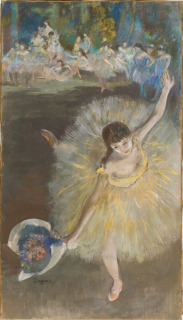 In the 1850s, some artists turned away from the traditional themes of painting – historical scenes, formal portraits and landscapes – to take their inspiration from "modern" life as celebrated by Charles Baudelaire. They began to take a different view of the female form, abandoning representations of saints and goddesses in favour of real women, portraying them in a fading continuity or in modern life at its harshest.
Their subjects included young girls and older women, aristocrats and bourgeoises, urban, working class women and countrywomen, as well as symbols of an idealised world like Gauguin's Tahitian women.
The Modern Woman, the first exhibition of drawings and pastels from the Musée d'Orsay collections to travel outside France, continues France's long tradition of successful, cultural cooperation with Canada. This is the first time that some of the one hundred or so works on loan have ever left Paris. Bringing together artists as famous and diverse as Courbet, Degas, Manet, Toulouse-Lautrec and Bonnard, the exhibition captures the spirit of one of the richest and most innovative periods in the history of art through their representation of the women of their time.