The national pavilions at the Universal Exhibitions
Sous-titre

An open-air museum of identities
From 09 September to December 13th, 2022 -

The concept of the nation was a major phenomenon in the 19th century. It had a profound influence on architecture which has the capacity to touch the masses without requiring any initiative on the part of its viewers. From 1867, the Universal Exhibitions constituted a laboratory for showcasing ations, which were represented by "pavilions" with architecture that expressed their histories, traditions and identities.
The importance accorded to these national pavilions culminated in the Universal Exhibition in Paris in 1900 (50.8 million visitors). In a Europe where nationalisms were being asserted, threatening the integrity of empires, they extended like an open-air museum along the "Rue des Nations".
The Musée d'Orsay has preserved some remarkable records of this display of national identities. These drawings were mainly produced by French architects from the Paris École des Beaux-Arts (School of Fine Arts), who enjoyed great prestige abroad at the time. These architects acted as advocates of national styles that they sometimes helped to invent.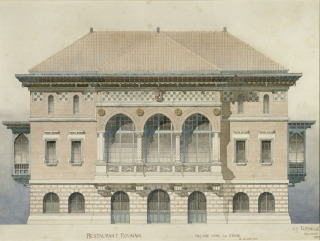 The kingdom of Romania, independent since 1881, thus called upon Jean-Camille Formigé in 1900 to create several pavilions for the new nation. Folk tales provided the artistic inspiration for the mural decorations. Those of the pavilion of Bosnia-Herzegovina are entrusted to Alfons Mucha, who puts in scene the Bosnian legends.
On display level 0, in the new space  « Paris, capitale d'une nation moderne »