New York and Modern Art. Alfred Stieglitz and His Circle (1905-1930)
From October 19th, 2004 to January 16th, 2005 -
Musée d'Orsay
Esplanade Valéry Giscard d'Estaing
75007 Paris
Map & itinerary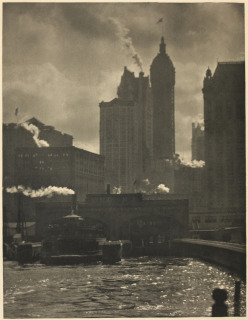 The city of New York underwent incredible development during the early 20th century, which favoured an intellectual and artistic boom. Alfred Stieglitz (1864-1946), a charismatic figure, was to play a central part in the elaboration of American Modern art. His gallery, located 291, Fifth Avenue, at first devoted to photography, became the centre of the European avant-garde from 1908 onwards. There he exhibited drawings by Rodin, Cézanne, Picasso and Matisse, before the 1913 Armory Show, the first major contemporary art fair in the United States. The latter soon attracted artists from overseas, such as Picabia and Duchamps: artistic life in New York then gained momentum and galleries multiplied. Stieglitz and his group were no longer centre stage but went on creating events, defending not only Picasso, Bracque, Picabia and Brancusi, but also 'Negro' art and Dada, whose review 291, inspired by Apollinaire, gave premonitory signs.
After the First World War, Stieglitz was to indulge more intensively his passion, photography, while continuing to defend a group of painters, including Arthur Dove, Georgia O'Keeffe and Charles Demuth. Their intention was to create a typically American modern art.
This is the first time in Paris that Stieglitz and his circle's action is the object of a monographic exhibition; the first time also that the work of this major photographer is shown comprehensively.
For further
Detailed presentation of the exhibition
Read
Current exhibitions
Folders around the exhibitions