Paul Helleu (1859-1927): portraits and private life
From September 20th, 2022 to January 01st, 2023 -

A close friend of Marcel Proust (1871-1922), whose death is being commemorated this year, Paul Helleu was the preferred artist of the Belle Époque elite.
It was primarily on him that the novelist modeled the character of Elstir in In Search of Lost Time. Robert de Montesquiou, the poet, dandy, and main inspiration for Baron de Charlus in the novel, was also Helleu's loyal friend and greatest admirer. He dedicated a whole book to him.
Helleu has yet to inspire the same resurgence of interest as his friends, the portrait painters John Singer Sargent and Giovanni Boldini. Yet like them, he was highly sought as a society portrait painter and was internationally famous.
In 1902, a publisher by the name of Russell commissioned him to make an album of portraits of New York's twenty most beautiful women. We also owe Helleu the celestial decor of the ceiling of Grand Central Station.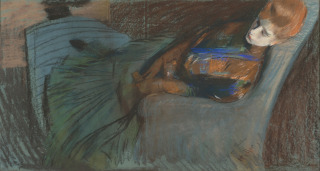 But Helleu was first and foremost a "painter of women". He loved them and painted their portraits with a life-long passion, yet none so much as Alice, his wife, whom he drew ceaselessly from the moment they met. The private, everyday life of their family accounts for a major share of his graphic work. In this display, it provides a counterpoint to the elegance of his society portraits.
On display room 41, level 5
Related articles
Current exhibitions