Portraits by Cézanne
From June 13th to September 24th, 2017 -
Musée d'Orsay
Esplanade Valéry Giscard d'Estaing
75007 Paris
Map & itinerary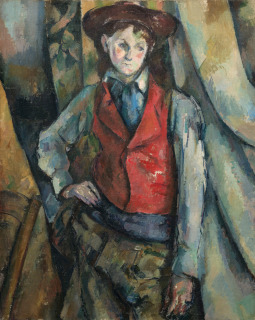 Paul Cézanne (1839-1906) painted almost 200 portraits during his career, including 26 of himself and 29 of his wife, Hortense Fiquet.
The exhibition will explore the special pictorial and thematic characteristics of Cézanne's portraiture, including his creation of complementary pairs and multiple versions of the same subject.
The chronological development of Cézanne's portraiture will be considered, with an examination of the changes that occurred with respect to his style and method, and his understanding of resemblance and identity. The exhibition will also discuss the extent to which particular sitters inflected the characteristics and development of his practise.
Works included in the exhibition will range from Cezanne's remarkable portraits of his Uncle Dominique, dating from the 1860s, through to his final portraits of Vallier, who helped Cézanne in his garden and studio at Les Lauves, Aix-en-Provence, made shortly before the artist's death in 1906.
Cézanne is widely understood to be one of the most influential artists of the nineteenth century. Generally categorised as a Post-Impressionist, his unique method of building form with colour, and his analytical approach to nature influenced the art of Cubists, Fauvists, and successive generations of avant-garde artists. Both Matisse and Picasso called Cézanne 'the father of us all.' Studying his portraits, we are certainly dealing with the most personal, and therefore most human, aspect of Cézanne's art.
For further
Detailed presentation of the exhibition
Read
Current exhibitions
Folders around the exhibitions