Exposition au musée
James Tissot (1836-1902), Ambiguously modern
From June 23rd to September 13th, 2020

James Tissot, Ambiguously modern
James Tissot, Ambiguously modern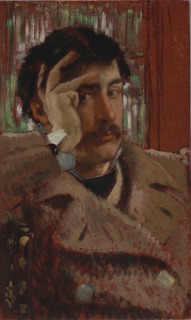 James Tissot was born in 1836 and died at the dawn of the 20th century. He enjoyed a long career spanning both sides of the Channel in a period of far-reaching social, political and aesthetic change. Trained in the tradition of Ingres and Flandrin, an admirer in his youth of the Flemish and Italian Primitives, the British Pre-Raphaelites and Japanese art, he embraced in the early 1860s the modern influence which his peers and friends – including Manet, Whistler, and Degas – brought to the French art scene.
He moved to London in the wake of the Franco-Prussian War and the Commune, drawing on elements of the conventions of British narrative painting to portray the entertainments and idle moments of Victorian society in pictures which were often mischievous and featured multiple layers of meaning.
An aficionado of all things original and eclectic, who was berated for veering towards pastiche but also praised for his stunning forms of personal expression, Tissot always followed his own inclinations. He almost pushed this tendency to the limit on his return to France in the early 1880s when he virtually abandoned painting to devote himself to illustrating the Bible, producing a fresh iconography of Scripture in the closing years of the century, which inspired 20th century film-makers. The great strength of Tissot's art lies in this desire not merely to explore fresh approaches, but also to embrace new techniques (prints, cloisonné enamel, photography, and illustration) in order to disseminate his compositions. His shrewd insight told him that in an era when technology could produce and distribute images on an unprecedented scale, the artist had a responsibility to manufacture them.
Like their creator – whom Edmond de Goncourt called "this complex being" – Tissot's works are captivating and ambiguous in equal measure. At first glance they appear to be sparkling and bright, but closer examination of the multiplicity of details uncovers a frequently paradoxical and disconcerting dimension and ultimately reveals that they are suggesting hidden meanings which are not explained. Their brilliance lies in their ability to pique the spectator's curiosity without ever fully satisfying it, thus allowing individuals to assimilate them on their own terms.
Influences
Influences
Jacques Joseph Tissot grew up in Nantes, dividing his time between the family drapery business and the quays of the river Loire. This boy, already enrolled as "James" in school, and initially interested in architecture, chose to become a painter and moved to Paris in 1855-1856. He trained in the studios of Flandrin and Lamothe, both followers of Ingres, who instilled in him a love of drawing.
However, Tissot's true models were not French. Looking further afield, the young artist developed a love of the Primitives – the late mediaeval German masters (Cranach, Dürer, and Holbein) and the Italian painters of the Quattrocento (Carpaccio, and Bellini) – and among his own contemporaries the Belgian artist Henri Leys, and the British Pre-Raphaelite painters in whom he recognised a similarly authentic approach to observing the world and exquisite execution. Tissot's successive enthusiasms were fuelled by travel since he visited Belgium, Germany and Switzerland in 1859, and then Italy in 1862.
Tissot exhibited at the Salon in 1859. His works "full of odd peculiarities, and strange and curious things like the creations of a Nuremburg toymaker" (Olivier Merson) attracted attention, but also harsh criticism. The painter was accused of producing pastiches of the old masters and Henri Leys, and of wallowing in the archaic: "it is sad to see an intelligent and gifted artist betraying his talent with pedantic imitations," wrote the critic Paul de Saint-Victor.
However, within the space of a few years, Tissot laid the foundations for an original style comprising sharp draughtsmanship and contrasting colours, a sense of detail and accumulation, and weary or repentant figures, which he subsequently applied to modern themes.
Modern figures and portraits
Modern figures and portraits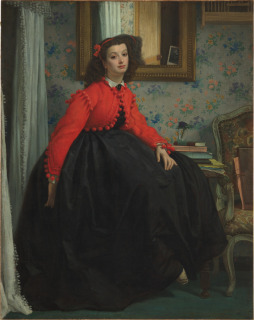 After being reviled by critics for the lack of originality of his historicist compositions, Tissot presented two radically different paintings at the Salon of 1864: Portrait of Mlle L.L... and Two Sisters; portraits. These paintings featuring a contemporary theme were extremely popular and earned Tissot a place in the Realist camp.
Presented by the artist as portraits, these works drew on the great tradition of the portrait d'apparat, on the fashion for elegant genre scenes, photographic portraits, and fashion plates.
Like his friends Whistler and Degas, Tissot played with these various sources and fully embraced this process of hybridisation of pictorial categories and the reassessment of the traditional hierarchy of genres.
As a true Baudelairean "painter of modern life" in tune with the bourgeois and materialistic society of a Second Empire fascinated by its own image, Tissot was keen to depict the distinctive beauty of the facial features, costumes and objects of his era.
Tissot's major portraits painted in the 1860s bring this uncompromising modern ambition to the history painting format.
Innovative yet not revolutionary, sophisticated but with a certain grandeur, Tissot's art and personality captivated wealthy clients, aristocratic dandies, and the upper middle classes, who commissioned portraits from him and collected genre scenes.
These paintings, which were disseminated via the medium of photography, sold by major dealers in Paris and London, and exported to the United States, made Tissot one of the most prominent artists of his time and he swiftly became a wealthy man.
Looking East towards Japan
Looking East towards Japan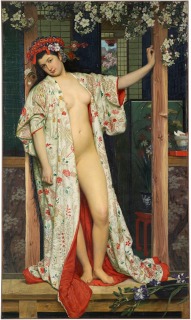 "The latest original event of note is the opening of a Japanese studio by a young painter with sufficient means to afford a small town house on the Champs-Élysées" – this is how the critic Champfleury described Tissot and his taste for the art of Japan in 1869.
The artist was in fact part of the first wave of Japanese-inspired French artists, several years after Japan opened its doors to the West in 1853, and even before the Universal Exhibition in Paris in 1867, to which Japan sent a delegation and at which it exhibited for the first time.
Under the Second Empire, Tissot was one of the most enthusiastic collectors of Asiatic objects and had the great honour of being the drawing master of young Prince Tokugawa Akitake, brother of the last Shogun, and head of the Japanese delegation in 1867-1868.
Tissot, whom the Japanese delegation called chisō, continued to channel his love of Japan in his work.
In 1864, his major painting Japanese Woman Bathing offered a fantasy vision of an imaginary East by depicting a European woman dressed up in a shimmering kimono.
At the end of the decade, the painter displayed his collections to spectators in his works, and to the enthusiastic gaze of the elegant young women who wandered through his town house.
In a striking mise en abyme, this intimate setting treated them as dolls among Japanese dolls, possibly even objectifying the women as ornaments in his collection.
Many Japanese objects recur in his paintings, as can be seen in the brightly coloured prints being handled by the beautiful Mathilde Sée in a late pastel, and in many London compositions – which suggests that Tissot either took his collection to Britain with him or continued to expand it there.
A Frenchman in London
A Frenchman in London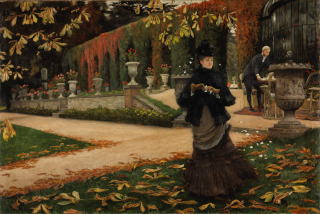 On 30 September 1870, when Paris was under siege from Prussian forces, Tissot joined the National Defence volunteer corps in the Seine infantry battalion.
The painter was a staunch patriot and enlisted as a volunteer like other artists including Edgar Degas, Édouard Manet, Jules Regnault, and Joseph Cuvelier.
He took part in fighting at Malmaison and recorded in his notebooks the ferocity of the clashes which made a lasting and profound impact on him.
By contrast, it is difficult to establish whether Tissot participated in the Commune as he was not politically committed like Courbet.
Whatever the case may be, Tissot left the capital in haste after Bloody Week, which brought the Commune to an end.
Arriving in London in the summer of 1871, he wasted no time in relaunching his career.
His reputation preceded him as he had shown work there on three occasions at official exhibitions between 1862 and 1864, and had been working with London-based art dealer Ernest Gambart since 1863. Tissot received a particularly warm welcome from his friend Thomas Gibson Bowles, editor of the magazine Vanity Fair, to whom he had already submitted some caricatures during the Second Empire
In England, the painter renewed his acquaintance with his Parisian friends, the artists Alphonse Legros, Giuseppe De Nittis, and James Whistler.
He also moved in smart Victorian circles and received a few portrait commissions. However, Tissot remained a French exile in London and maintained a degree of distance, tinged with irony vis-à-vis the strait-laced morals of the Victorian era. Paintings such as Too early and London Visitors reflect his French perception of British social conventions.
Thames and variations
Thames and variations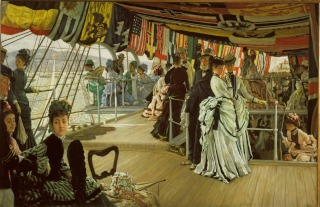 When Tissot settled in London in 1871, he developed a love of the Thames shoreline and British coastal resorts. Following in the footsteps of his friend Whistler, who found material for a number of works there from the 1860s onwards, the painter discovered fertile ground for inspiration in the life of the docks and British coast.
This world, with its blend of industry and leisure, the trivial and the beautiful, located between the megalopolis of London and the sea from which emigrants set sail, was the subject of compositions which impressed critics at the Royal Academy and Grosvenor Gallery, where Tissot showed his work.
The press was also captivated by this foreigner who reproduced contemporary reality with such acuity.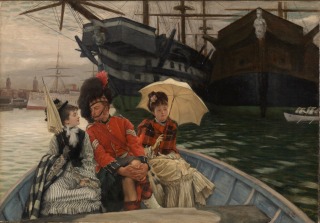 However, a certain weariness sometimes made itself felt. It was not uncommon to find several very similar works by Tissot, and his ability to adapt his compositions to different media with a few modifications is both fascinating and disconcerting when variation verges on repetition.
The fact remains that the extraordinary plasticity of Tissot's compositions and the way in which they adapt to different techniques form the basis of a new approach to images.
In Britain, the painter, who translated his own paintings into prints – and in the case of certain outstanding pieces into cloisonné enamel works (see the next room) – was truly able to forge a graphic language which ensured the widespread dissemination of his works.
Paradise Lost
Paradise Lost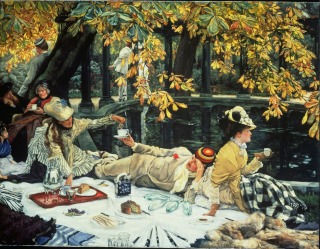 In the second half of the decade he spent in London, Tissot placed an unprecedented emphasis on the world of gardens and parks.
Frequently transformed into an enclosed space bounded by natural elements such as foliage, lawns and lakes, they provided a stage on which to present captivating and enigmatic scenes.
Female figures, often inspired by the painter's partner Kathleen Newton, play a major role. By turns dreamy, convalescent, idle, and angry they seem to be the focal point of a plot to which the painter, in a departure from the codes of narrative painting typical of the Victorian era, does not provide a key.
The spectator can discern the outline of a narrative but is faced with an image which cannot be clearly deciphered.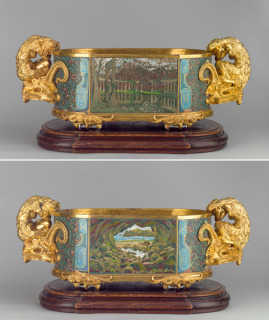 However, the meticulous detail which Tissot lavished on the objects which fill his paintings, his highly developed feeling for volumes, and his exquisite mastery of colour are visually alluring, and encourage the spectator to enjoy them first and foremost rather than interpret them, although some compositions seem to be saturated with detail and somewhat overcrowded.
The overriding impression is that the savour comes from within the image – brilliantly executed, skilfully composed, and exquisitely textured with objects, poses and outfits – rather than from an external source such as a dramatic event, parable or historical reference.
The recurring presence of several extremely beautiful ornamental motifs, such as the golden foliage of the chestnut trees which are so prominent in the group of paintings exhibited here, encourages this reading.
Kathleen lost and Kathleen found
Kathleen lost and Kathleen found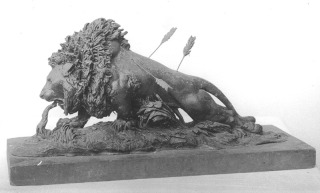 In London in 1876, Tissot, who was forty-one, met twenty-three year-old divorcee and mother of two, Kathleen Newton.
She quickly took up residence with him and became the main source of inspiration for his most iconic works at the end of the decade.
Like a butterfly in a greenhouse, Kathleen embodied the artist's ideal vision of femininity in the studio, house and garden as a young and radiant but fragile beauty who was soon to succumb to illness and death.
Kathleen had tuberculosis and was being "consumed" before the very eyes of her artist-lover, who continued to use her as his model right up until her death on 9 November 1882. Tissot left Britain for France on 15 November and moved back into his town house in Paris.
Afflicted by Kathleen's death, the painter soon began to acquaint himself with experiments in communicating with the deceased and spiritualism, which were in vogue in Europe at the time.
Tissot believed that he made contact with Kathleen through the British medium Eglington at a spiritualist séance held in London on 20 May 1885.
He faithfully reproduced this "apparition" in a unique style of painting entitled The Apparition, which combined elements of Romantic ghost figures and contemporary spirit photographs.
The Woman of Paris
The Woman of Paris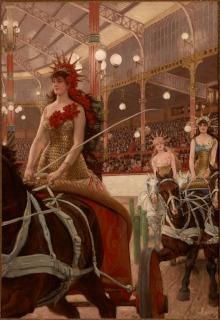 One of Tissot's great achievements was a series of fifteen paintings of identical size on the theme "The Woman of Paris" produced when he returned to France, which he showed at two solo exhibitions in Paris (1885), then London (1886).
This spectacular and wholly original form of presentation was intended by the painter as a means of re-establishing himself on the French art scene.
Tissot chose as his subject the Parisian woman, the epitome of modern, sophisticated beauty, but also of a certain art of seduction. In these paintings in which women embody by turn male fantasies of dolls and the Sphinx (the title of one of the paintings in the series), the focus is primarily on the looks exchanged between men and women – and the spectator.
The series allowed Tissot to address all the major themes of the Naturalist movement such as boulevards, shops, the entertainment scene, finance, and the social world of artists.
Tissot, who had re-established his ties with literary circles prior to his return to Paris, notably with his friends Edmond de Goncourt and Alphonse Daudet, hoped to adapt his series for publication. He produced his own engravings which he was keen to accompany with short stories by Ludovic Halévy, Théodore de Banville, Alphonse Daudet, François Coppée, Albert Wolff and Guy de Maupassant.
A subscription was raised, but the project did not come to fruition. This can perhaps be attributed to the exhibition's overwhelmingly poor reception. French critics accused these Parisian women, and the artist himself, of being too British. This failure led Tissot to embark on his project to illustrate the Bible, which occupied the final fifteen years of his life.
Tissot – a prodigal artist?
Tissot – a prodigal artist?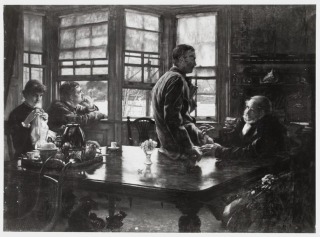 Tissot's interest in occultism was coupled with the rediscovery of his Catholic faith. A few months after Kathleen's apparition, he experienced another vision, of Christ, in Saint-Sulpice church in Paris.
This event persuaded him to turn his back on modern subjects and instead devote himself to illustrating the Gospels. This decision coincided with the unfavourable reception of the series Women of Paris, exhibited in Paris and London in 1885-1886.
His aim was to re-establish the truth of the Bible story in a Christian world whose imagination was "distorted by the fantasies of painters".
In order to achieve this, the painter travelled to the Holy Land in 1886-1887, in 1888-1889, and in 1896; he carried out research and immersed himself in places where he believed he could rediscover the true message of the Scriptures.
This quest for a historical Jesus, which had affinities with Ernest Renan's project for his Life of Jesus (1863), was accompanied in the case of Tissot by a fondness for supernatural iconography and an original apologetic and mystical dimension. His search for authenticity was founded in his faith, and the images he painted translated his "visions".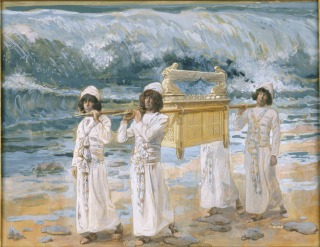 The 270 watercolours (out of a total of 365) presented at the Salon in 1894 were hugely popular.
Published by Mame in 1896 with the title The Life of our Lord Jesus Christ, the work was a bestseller and was considered to be one of the finest books of the century.
After accompanying his illustrations on a triumphant touring exhibition in North America, Tissot began illustrating the Old Testament. The artist died aged sixty-five at his property at Buillon in 1902, before completing this project.