Exposition au musée
Johan Barthold Jongkind (1819-1891)
From June 02nd to September 05th, 2004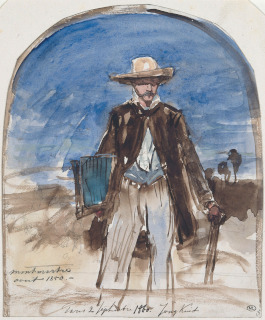 Johan Barthold Jongkind was born on June 3, 1819 in Lattrop, in the East of the Netherlands. He left school at 16 to find employment with a solicitor but in 1837 his mother, a widow since the previous year, allowed him to leave for The Hague in order to attend classes at the Drawing Academy. Jongkind then became the pupil of a famous open-air landscape painter, Andreas Schelfhout (1787-1870). In the biography he devoted to Jongkind in 1918, Etienne Moreau-Nélaton was to write: "One of the most precious gifts he owed Shelfhout was his initiation to quick sketching after nature, rendering the full aspect of a landscape through a wash of summary colours over a nervous and solidly constructed drawing."
His early works convey his attachment to the tradition of Dutch landscape painters of the 17th century, first in the composition of his paintings: a low horizon – a third for the ground, two thirds for the sky, an upward diagonal from left to right, small characters animating the landscape, and secondly in the choice of his motifs: canals, skaters, mills (even though Jongkind was more interested in rendering light and atmosphere than in the picturesque of the subject).
In 1845, Jongkind made an acquaintance that was to prove decisive. In The Hague to attend the inauguration of a statue of William of Orange-Nassau (known as the Taciturn, 1533-1584, a German prince, Stadhouder of Holland), the painter Eugène Isabey (1803-1886) invited Jongkind to join him in his Paris studio.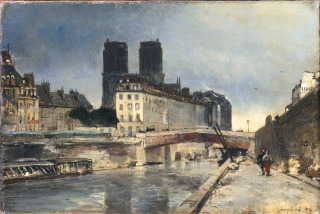 In 1846, Jongkind enrolled in Isabey's studio and became his pupil. He met many people in Paris, in particular Daubigny, Baudelaire, Nadar, Rousseau, Corot... With his jovial character, he built up long-lasting friendships. The painter was especially fond of the banks of the Seine and the area around Notre-Dame became one of his favourite subjects.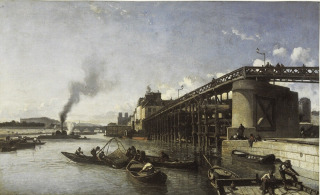 With Jongkind, 19th-century French landscape painting forged links with 17th-century Dutch landscape painting.
For example, in his treatment of light and the atmosphere it emanates, the influence of Corot, whom he admired, can be perceived.
But the composition remains classical, as in Le pont de l'estacade: an ample diagonal and a sky that, with elements of architecture, occupies the upper two thirds of the painting. As he represented the footbridge made of metal and reinforced concrete and recorded human activity (fishermen at work, passers-by on the bridge...), Jongkind also embodied the "modernity" the impressionist were fond of.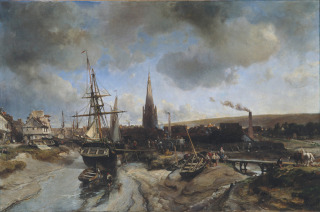 Jongkind became relatively famous during the first ten years of his sojourn in Paris. He exhibited at the Salon as early as 1848, was awarded a third-class medal in 1852 and the state bought The Harbour in Harfleur in 1851 and Le pont de l'estacade in 1853. He was well-known among art-lovers for his moonlit landscapes and views of Paris.
But his financial situation remained precarious, all the more so as in 1853 the allowance granted him by the king William I during his studies in The Hague was suspended. A tormented spirit, Jongkind was frequently seized by fits of paranoid delirium, a fragility accentuated by excessive consumption of alcohol. His not being awarded a prize at the 1855 Salon also contributed to his breaking down. He opened himself on the point to Eugene Smits in a letter: "What I have endured is incredible... I was not even awarded an honourable mention, nothing".
Debt-ridden, remembering nothing but disappointments, Jongkind returned to Holland. Yet the links he had established with France were not severed. He sojourned in Paris in 1857, received a silver medal during an exhibition in Dijon in 1858, took part in the 1859 Salon and sold his paintings almost exclusively through the intermediary of the art dealer Pierre-Firmin Martin. But in Holland, Jongkind went on drinking and debts continued to accumulate.
Informed of his situation, his friends, on Count Doria's initiative, organised an auction to come to his help. Ninety-three artists, including Corot, Daubigny and Diaz took part by giving a work each. The produce of the sale was used to send the painter Cals to Holland to pay off Jongkind's debts and bring him back to Paris. This was the start of a productive period for the artist.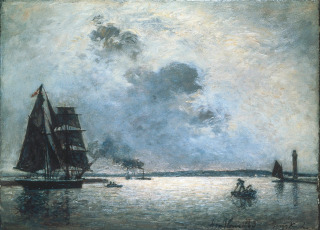 Back in France, Jongkind recovered his psychological balance thanks to the presence by his side of Mme Fesser, a Dutchwoman who had married a Frenchman and who took charge of him. It was also during these years that Jongkind affirmed more and more clearly his own style and freed himself from the influence of his former masters.
From 1862 onwards, Jongkind returned to Normandy, a region he had discovered with Isabey fifteen years before. Jongkind made friends with Boudin (1824-1898) and became acquainted with Monet (1840-1926) and Bazille (1841-1870). They met regularly in the Saint-Siméon farm, a crossroads for painters in those times.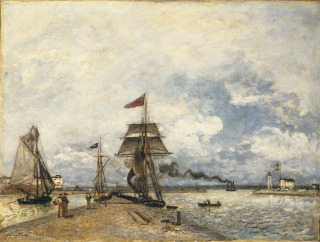 Jongkind was considered as a guide by these younger artists. For Boudin: "Jongkind was beginning to get people to swallow a painting the skin of which, rather tough, covered an excellent and most tasty fruit." And about the watercolours: "This is made of nothing, and yet the fluidity of the sky and clouds are transposed with unimaginable accuracy", while Monet was later to own "Jongkind had me show my sketches, he invited me to come and work with him, explained the manner and reasons of his painting and, completing the teaching I had received by Boudin, he became henceforth my true master. It is to him I owe the definitive education of my eye..."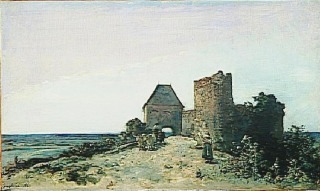 Honfleur and its surroundings provided Jongkind with "all that is needed to make beautiful paintings".
Following the example of such British landscape painters as Constable, Turner and Bonington, of Corot and the Barbizon painters, such as Boudin, he gave prominence to the direct observation of nature.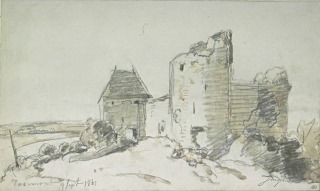 But Jongkind was not an open-air painter. In front of his subject, he executed watercolours in which his mastery is revealed. He then used these views to make his paintings in his studio: "He painted them 'after life', but one has to agree on the definition of this phrase insofar as he was concerned. A painting by Jongkind 'after life' is not a straightforward copy of the motif he had settled on. It is the reproduction of the same subject treated through watercolour. His first sketch is a watercolour. It is with his watercolour brush that he captured directly the impression of nature" (Etienne Moreau-Nélaton).
Gifted with a remarkable visual memory, Jongkind could reconstitute in his studio a landscape captured many years before. Thus he went on painting Dutch landscapes until the end of his life whereas his last trip to his native country is dated 1869.
For the freshness of his vision and his fragmented touch, Jongkind is rightly considered as a precursor of impressionism. In 1863, while Jongkind exhibited three paintings at the Salon des Refusés, including Ruines du château de Rosemont (Musée d'Orsay, Moreau-Nélaton donation), the critic Castagnary wrote these premonitory words: "With him all lies in impression". But Jongkind may not be considered a group leader. He was not concerned with the intellectual aspect of painting and only sought to reproduce intuitively his visual sensations, and he did not participate in the first impressionist exhibition in 1874.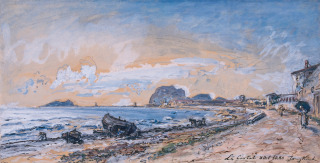 Jongkind spent the last twenty years of his life in the Nivernais and in the Dauphiné. He travelled in Switzerland, in Belgium and in the South of France, where he painted numerous studies.
Yet his mental balance remained precarious and he was still consumed by alcoholism. He progressively took refuge in the intimate circle of the Fesser family and his sojourns in Paris became scarce.
Yet his reputation kept augmenting in the capital among art dealers. Freed from financial concerns, he found in watercolour painting his principal means of expression. It was no doubt through this spontaneous technique that his virtuosity was best revealed. The influence he exerted among the impressionists' generation may be explained in particular by the subtle way in which he suggested light, the twinkling of water and of air.
Towards the end of his life, his technique became bolder. He simplified his motifs, enhanced his watercolours with coloured touches of gouache and did not hesitate to use the white of the paper as a supplementary colour.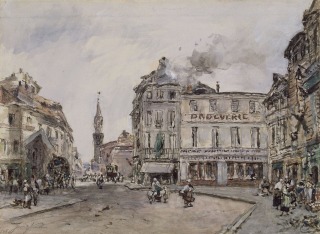 Jongkind passed away on February 9, 1891 in La Côte-Saint-André, in Isère, where he had retired in 1878 with Mme Fesser. An auction of his paintings organised in December 1891 was widely successful, consecrating an artist already famous among his peers. Manet described him as "the father of modern landscape painting", while in the book he devoted to him in 1927, Signac placed Jongkind "this renovator of modern landscape, between Corot and Monet".