Toulouse Lautrec
From 22 February to June 01st, 1992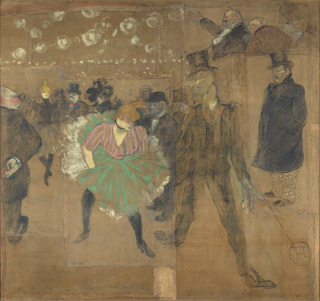 On top of the generous contribution of 28 paintings from the collections of the Musée Toulouse-Lautrec in Albi - the painter's native city - this exhibition featured the loan of many paintings from private collections and European, Russian and American museums. The Grand Palais thus gathered five large scale paintings that are among the artist's most ambitious achievements : Au salon de la rue des Moulins from the Albi museum, Au cirque Fernando : l'écuyère, Au bal du Moulin de la Galette, Au Moulin Rouge from the Art Institute of Chicago, and Au Moulin Rouge : la danse from the Philadelphia museum. About 200 pieces, including 80 paintings, about fifty lithographs, many drawings, but also a dozen posters and a few very rare art objects illustrated the variety of techniques used by the artist, of whom the previous retrospective in France was in 1964.
Of aristocratic origins, Toulouse-Lautrec (1864-1901), marked by his physical deformity, overcame his painful condition by exploiting ceaselessly his drawing skills which, demonstrated since his childhood, constituted a family tradition.
Deeply interested in " nocturnal paradises " of all kinds - from opera to cabarets and brothels - he haunted the world of bohemia and the Montmartre demi-monde of which his vision was both human and unrelenting, free from all moral or social judgement. He developed a multi-faceted painted and graphical work which the exhibition aimed at showing through a progress which was at the same time thematic and chronological.
The precision of his stroke, prompt to seize the silhouettes of the great stars of the Paris stages - Jane Avril, Loïe Fuller, Aristide Bruant etc.- and to explore their psychology and his bold layouts not only deeply marked the arts of poster-making and illustration but also the applied arts of the Art Nouveau.
Toulouse-Lautrec thus asserted himself as a first-rank personality in the French artistic life at the outset of the 20th century.