Universal exhibitions – an architectural playground
From 17 May to September 04th, 2022 -
Universal exhibitions are one of the most striking phenomena of the second half of the 19th century. Their initial aim was to bring together products of industry and technological innovations from all over the world, but this gradually expanded to include works of art and various types of entertainment. The Great Exhibition of 1851 in London marked the start a process of competition and emulation between capital cities.
Architects discovered a true playground for their activities at the five universal exhibitions held in Paris between 1855 and 1900. In response to the challenge issued in 1851 by Joseph Paxton's Crystal Palace constructed in Hyde Park in central London, Napoleon III was keen to showcase the prestige of his new imperial regime in 1855 via the exhibition organised in Paris.
For subsequent exhibitions, palaces were created in a variety of styles, along with stations and spectacular structures which were usually temporary. Of the projects presented here, only the Eiffel Tower, built for the exhibition of 1889, still stands in the Paris urban landscape as the quintessential symbol of the French capital.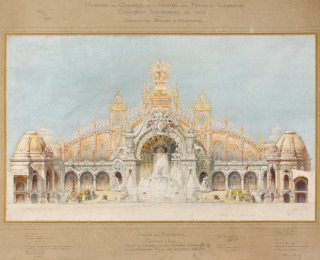 Presented on the ground floor, back of the nave, in the new space "Paris, the capital of a modern nation"