Chaise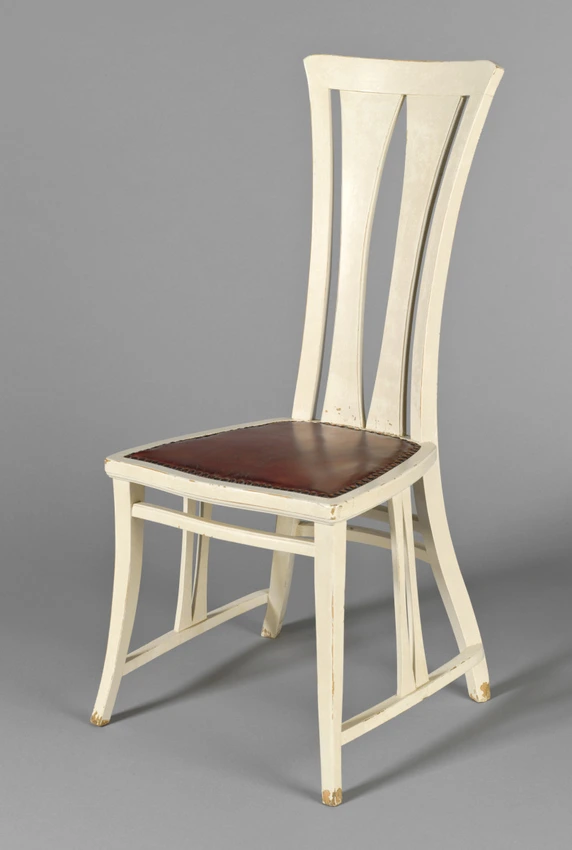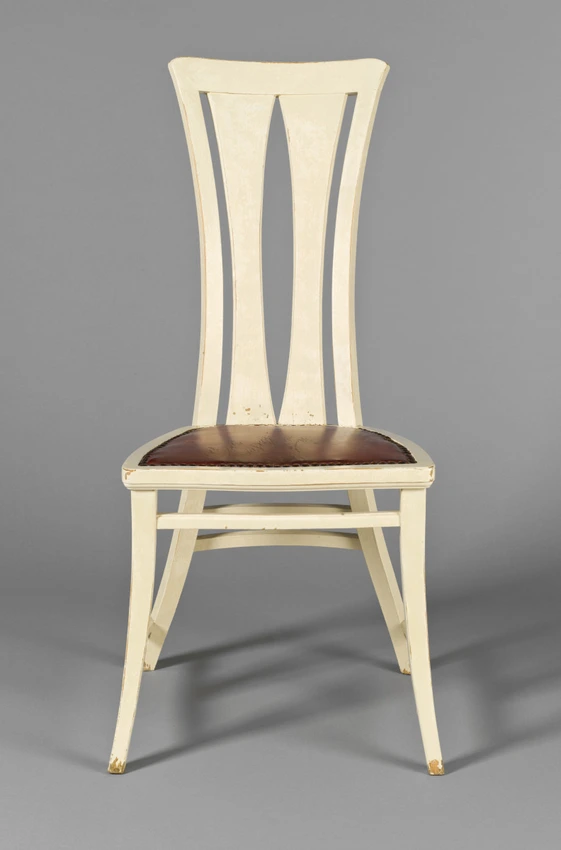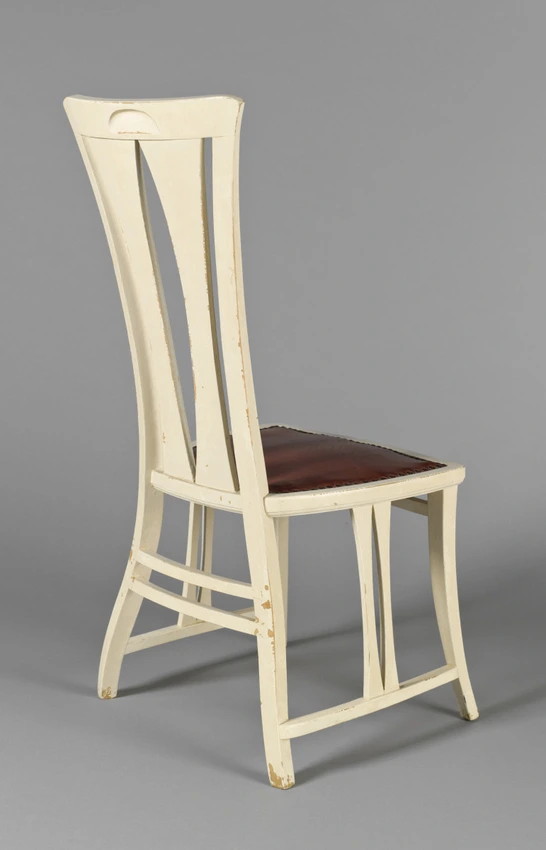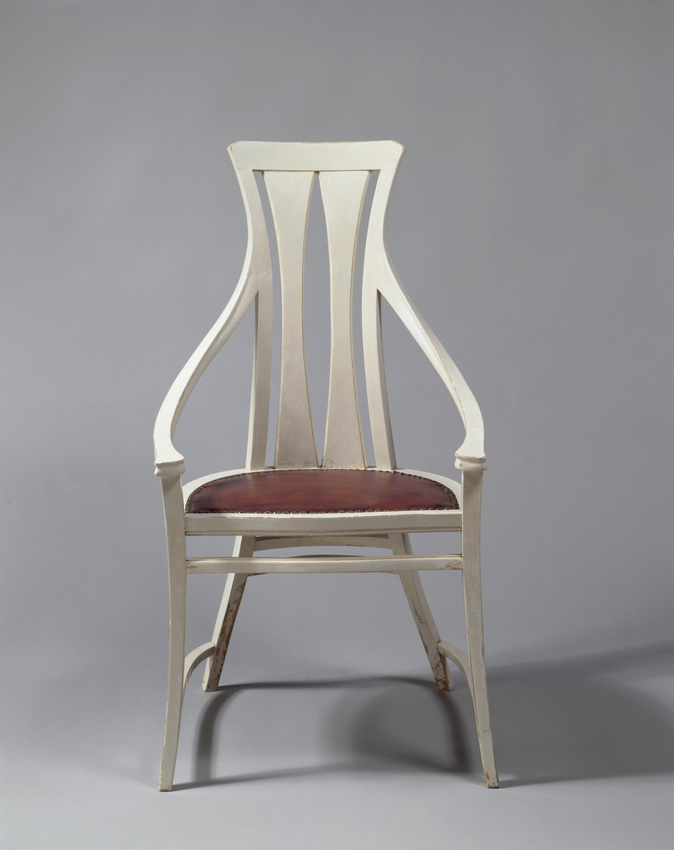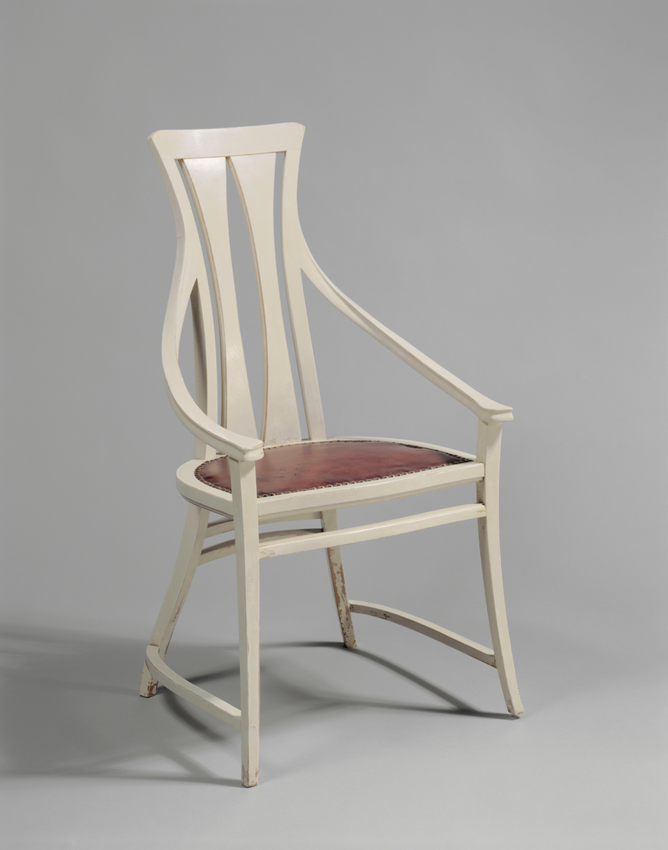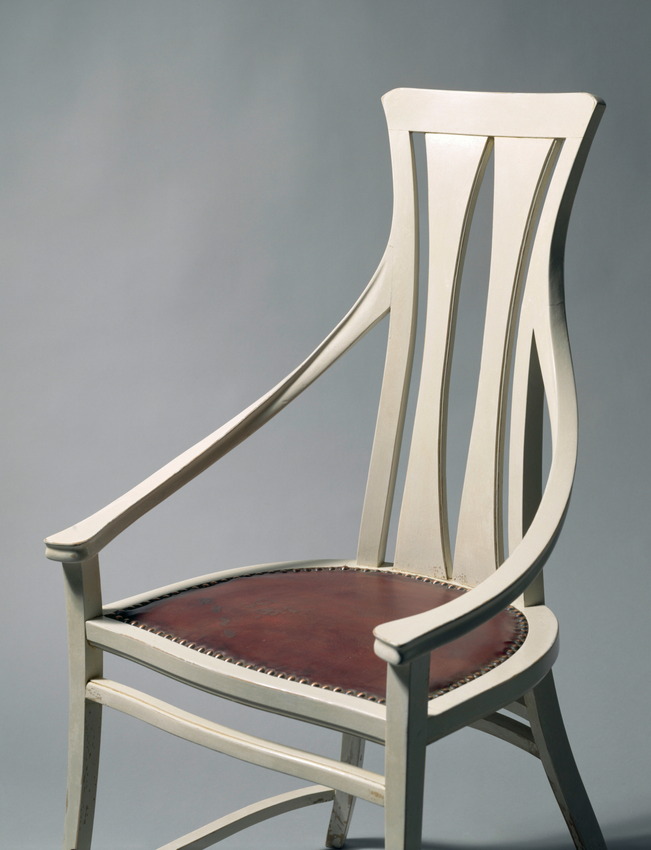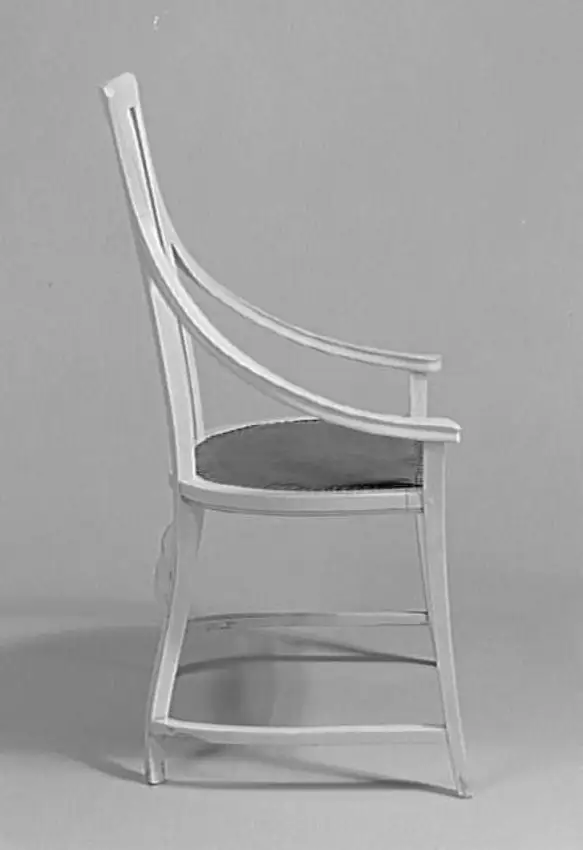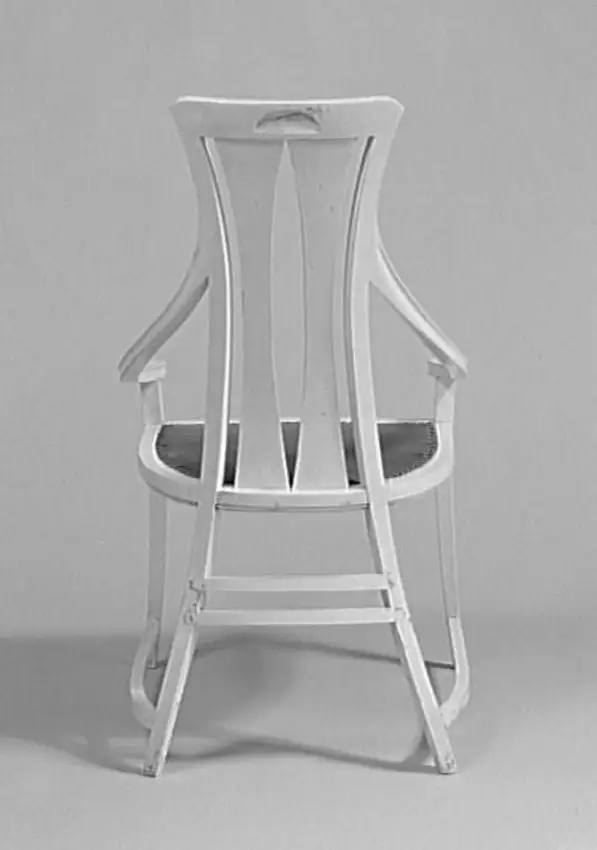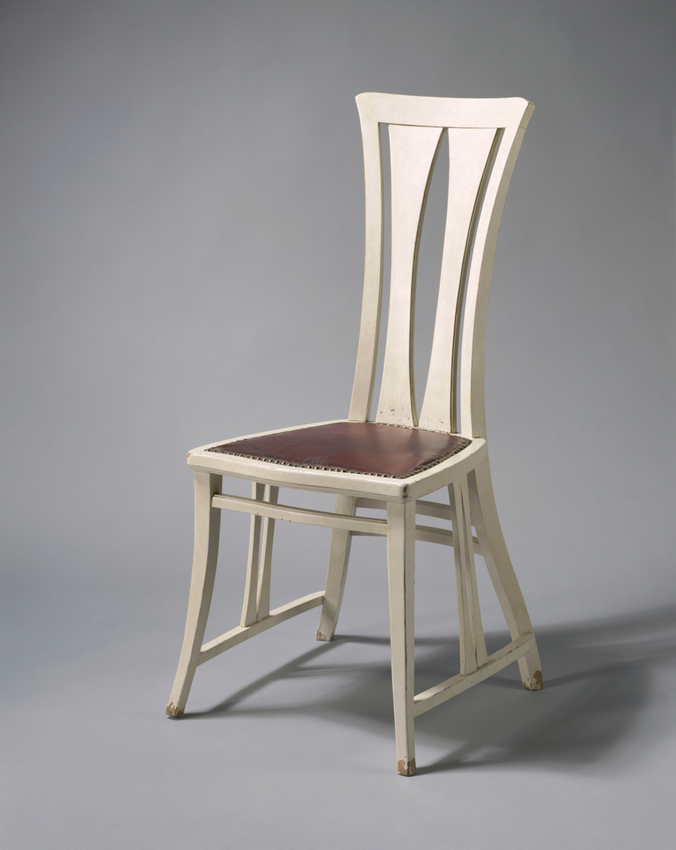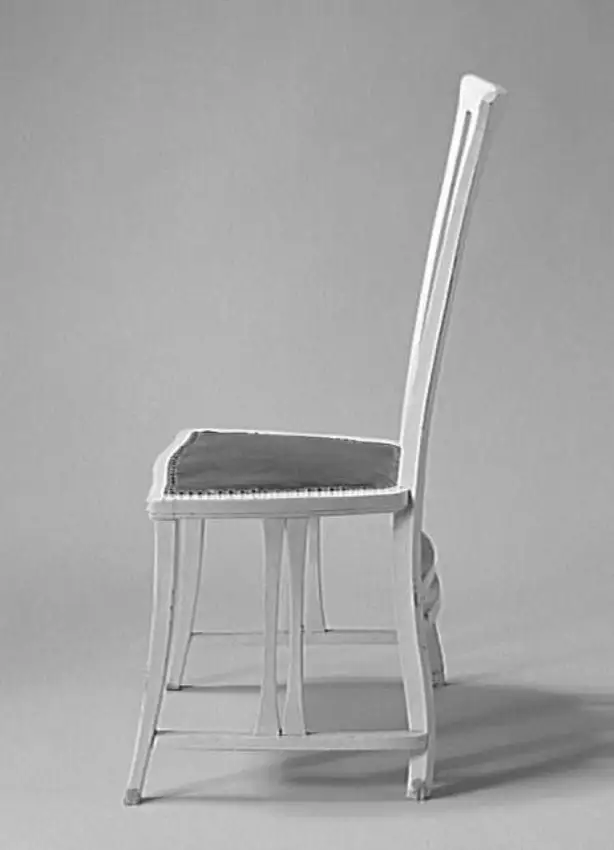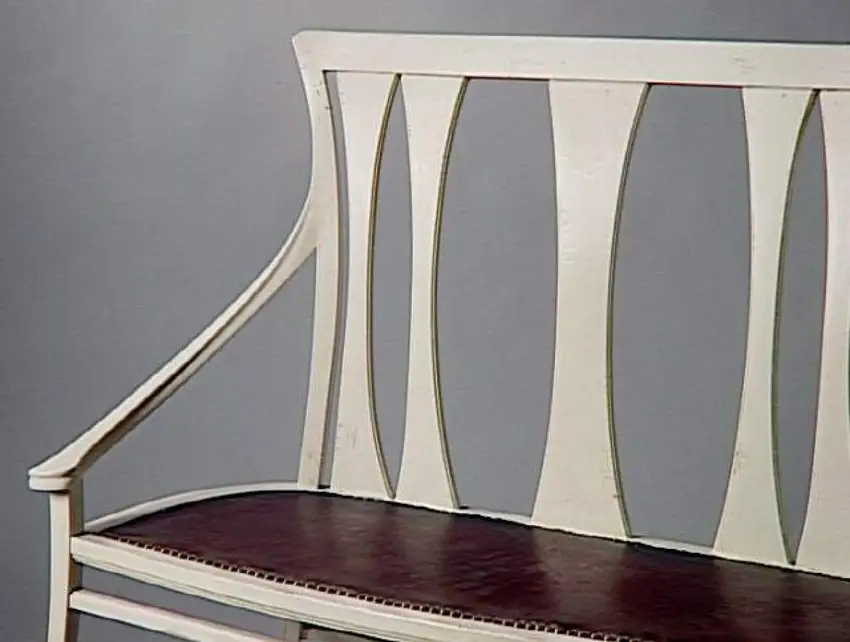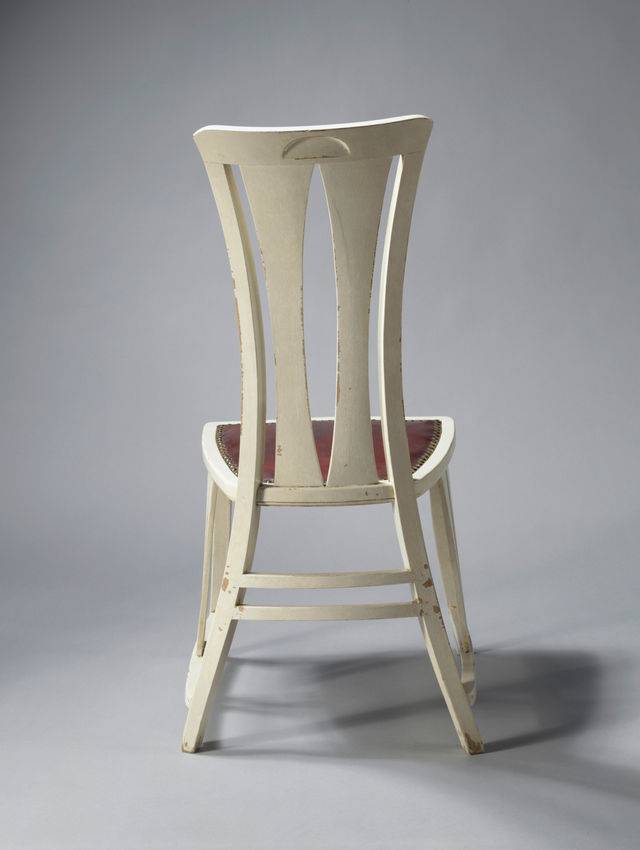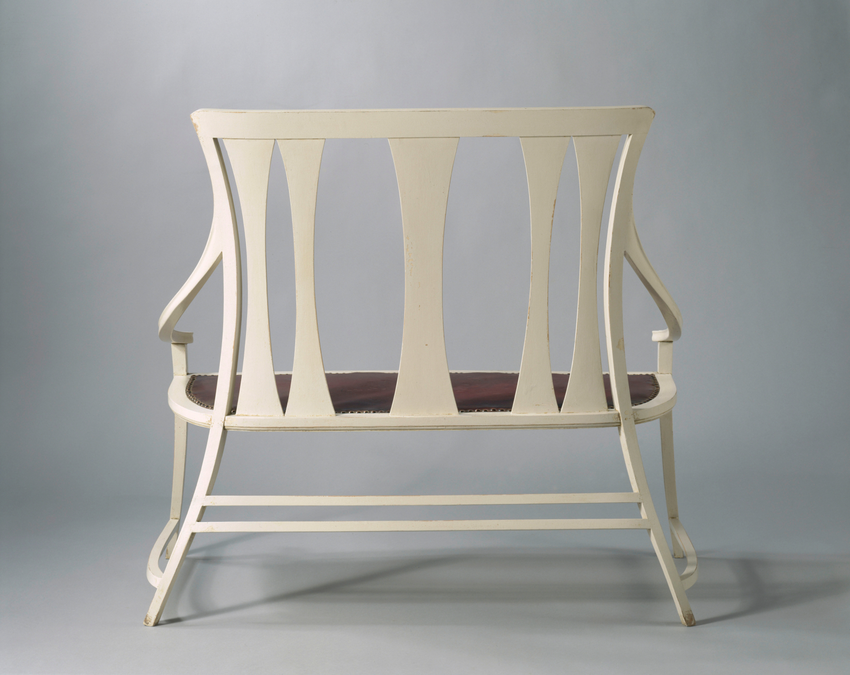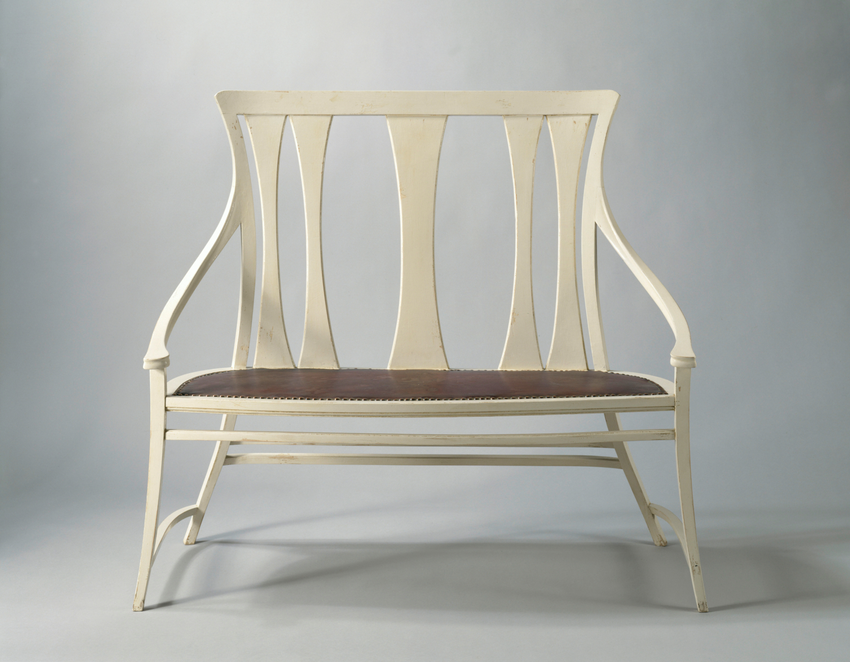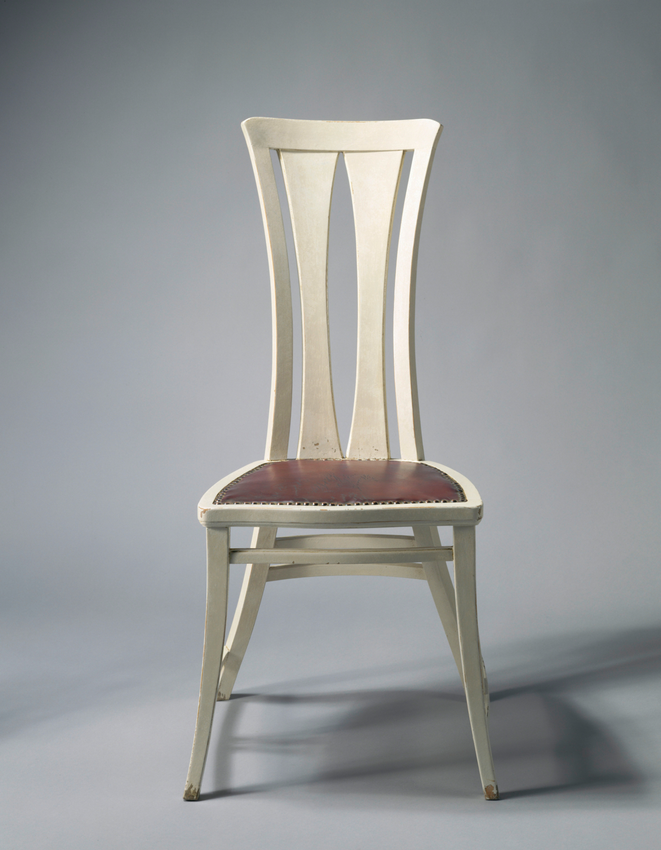 Peter Behrens (1868 - 1940)
Niveau médian, Pavillon amont niveau 3
Niveau médian
One of Queen Victoria's grandsons, Ernst Ludwig, the Grand Duke of Hesse, decided to make the little town of Darmstadt in Germany into a regional capital. In 1898 he asked a well-known Viennese architect, Joseph Maria Olbrich, to establish an artists' colony in a sector which was to become the prototype of a new housing concept.
Seven houses were opened in 1901; six built by Olbrich, the seventh by Peter Behrens, a promising talent virtually unknown at the time, who had trained as a painter and recently turned to the decorative arts. Similar principles were used for all these houses: large open windows, floods of light, a predominance of white, supple line for everything from the furniture to the crockery. The furniture included these three prototype chairs for the dining room; the full set of nine pieces – a bench, four armchairs for the ladies, four chairs for the gentlemen – was made for the house in which Behrens himself lived.
The framework is painted poplar, the upholstery red leather. These seats, with their splayed feet, gracefully curved armrests and openwork backrests are remarkable for their elegant restraint.
Resume
Artist(s)
auteur
Hambourg, Hambourg (Allemagne) 1868 - Berlin, Berlin (Allemagne) 1940
exécutant - manufacture
? 1843 - ? après 1902
Others accession number
Accession number
Description
peuplier laqué blanc, garniture cuir rouge
Dimensions
H. 104,0 ; L. 50,0 ; P. 45,5 cm.
Object details
Place of conservation
musée d'Orsay
History - Provenance
de 1901 à 1907, dans la collection Peter Behrens, Darmstadt

de 1907 à 1940, dans collection Peter Behrens, Berlin

jusqu'en 1999, galerie Ulrich Fiedler, Cologne

1999, acquis par les Musées nationaux avec la participation de la Société des Amis du Musée d'Orsay (comité du 04/11/1999, conseil du 10/11/1999, arrêté du 18/11/1999, arrêté acceptant la libéralité du 29/11/1999)

1999, attribué au musée d'Orsay, Paris
Modality of acquisition
achat avec participation
Exhibitions
1900 - Galeries nationales du Grand Palais - France, Paris, 2000, n°16
Sources
General bibliography
Behrens, Peter, Haus Peter Behrens. Katalog. Provisorische Ausgabe vom 15 mai 1901, Darmstadt, J.C. Herbert, 1901, p.17

Behrens, Peter, Haus Peter Behrens, Darmstadt, H. Hohman, 1901, p.20-21

Scheffler, Karl, Dekorative Kunst, "Das Haus Behrens", Munich, [s.n.], 1901, p.22

Koch, Alexander, Die Ausstellung der Darmstadter Kunstlerkolonie, Darmstadt, J.C. Herbert'schen, 1902, p.365-367

Buddensieg, Tilmann ; Deneke, Bernward ; Glaser, Hermann ; Götz, Norbert, Peter Behrens und Nürnberg Geschmackswandel in Deutschland : Historismus, Jugendstil und die Anfänge der Industrieform, [Ausstellung im Germanischen Nationalmuseum, Nürnberg, vom 20.9. bis 9.11. 1980], Munich, Prestel, 1980, p.37-47

Ulmer, Renate, Museum Kunstlerkolonie Darmstadt. Katalog, Darmstadt, Institut Mathildenhohe, 1990, p.6-7

Thiébaut, Philippe, 48/14 La revue du Musée d'Orsay, "Nouvelles acquisitions", Paris, Réunion des musées nationaux, 2000, p. 38-39
Suggestion
Do you have a question where you have additional knowledge about this work? You can write to us to suggest improvements to the file.
Make a suggestion