Danseuses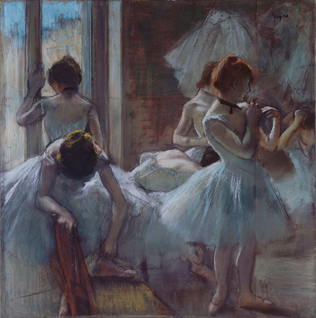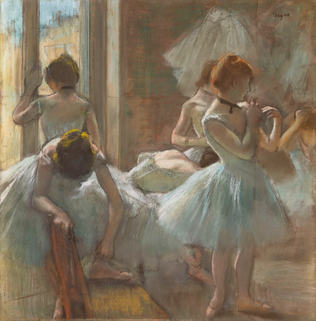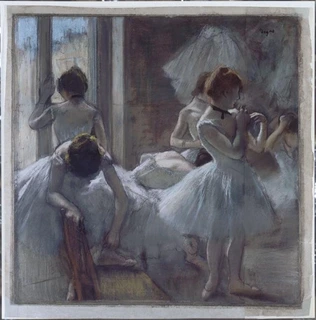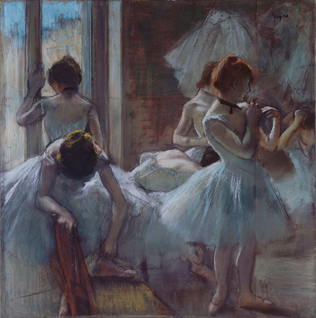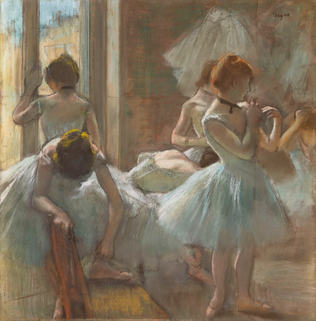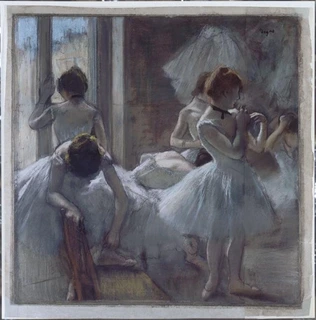 Edgar Degas (1834 - 1917)
Artwork not currently exhibited in the museum
In this pastel, Degas revisited a theme he had already tackled in his work in the 1870s – ballerinas resting. He also went back to his regular studies on the effects of contre-jour, lighting which "reduces to silhouette", suppressing details, erasing the distinctive features of a face or a body, making them anonymous.
But while still employing the old formulae, Dancers was innovative in its size and composition, and without doubt, is the best example of what has been called Degas' "classical period". Around 1884, the painter, in fact, simplified his compositions, reduced the depth of his pictorial space, lowered the viewpoint to make it more natural and concentrated on one, single character or group of figures. At the same time, he abandoned the often caricatural approach of his previous works. In doing this, he was responding to a desire expressed by critics and the public: to protest "against the confused mass of colours and the jumble of indecipherable lines that are destroying contemporary painting". From this point of view, Dancers is effectively a manifesto.
Degas uses an almost square format here, which was unusual for him at this time, but which he would often use later. Whereas previously in his "dance classes" he focused on isolated figures and large spaces, here he groups together six figures touching and responding to each other, forming one single creature with several heads, several arms and several feet. The white of the tutus provides the transition from one body to another, and the gestures echo each other.
In a raw, uneven light, the daylight catches a back or a shoulder, or is reflected off the blond or the red of the hair. And the pastel itself, sometimes dense, sometimes light, wonderfully interprets the diaphanous tutus and grey, dusty atmosphere of this room. He also added vivid bursts of colour like the red and the almost green yellow of a chignon.
This work heralds the impressive series of dancers that Degas produced between 1890 and 1900. In these, he would pick up the same gestures and attitudes, playing on different colours. However, Dancers is unique and did not inspire any copies or any variations. It is a masterpiece which, at the moment when Impressionism was starting to disintegrate, when Renoir, Pissarro and Monet were struggling to find their way, demonstrated Degas' astonishing vitality.